Rumor Has It: How to Deal When the Hot Gossip's About You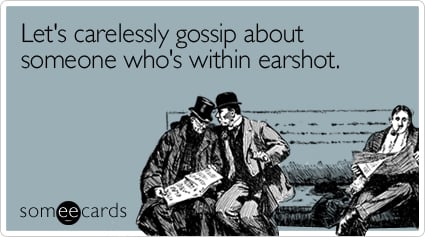 Originally published on SexReally.com on September 21, 2011.
Once upon a time, in college, I flew into a jealous rage and slashed the tires of a girl's car. Or so the rumors said. That's the thing about rumors – they tend to have a life of their own. But is it possible to control, or at least contain, a rumor?
Scenario 1 (My story)
The Rumor
I showed up uninvited to a beach vacation that included my ex-boyfriend, Mitch, his new girlfriend, Elizabeth, and 15 of their friends. I purposefully did this in order to taunt Elizabeth and ruin everyone's vacation. We went out one evening as a group and halfway through the night I disappeared. The next morning Elizabeth discovered that her tires were slashed. Even though we were all at the same hotel she was the only person whose car was disturbed. Thus, obviously she was the target of an act of jealousy. When I slipped away during the evening I must have come back to damage her car, thus forcing her to purchase new tires and spend half of her vacation at the nearest garage.
The Reality
One evening I ran into my friend, Kathy, and asked her how she was doing. She burst into tears. Her boyfriend of four years broke up with her the week before and she was a mess. She was trying to keep herself busy and said yes when a group of friends invited her on a last minute trip to the beach. She asked if I would like to come along so we could spend some time together while soaking up the rays.
The next day, Kathy and I arrived at the beach and went to check into the hotel where the group was staying. I walked into the lobby and felt my stomach drop to my knees. There was my ex and his new girlfriend standing at the counter. I didn't know that Kathy and Mitch knew each other and shared many of the same friends. Talk about awkward.
That evening we went out for drinks as a group. Even though the situation was highly uncomfortable, there were enough people there that I could keep my distance from Mitch and Elizabeth. We went club hopping and, as the evening progressed, Kathy got more and more drunk. At 1AM I found her sitting on the bathroom floor of a club sobbing. So, I helped her up, took her outside, and grabbed a cab. When we got back to the hotel, I put her into bed and we both went to sleep.
The next day I found out that Elizabeth's tires had been slashed and that I was deemed the culprit. I didn't even know Mitch and Elizabeth were going to be there! I didn't know what type of car Elizabeth owned! Did people think I carried knives with me to the beach? There were so many holes in the logic – how could anyone think I would do such a thing? But ultimately it didn't matter. The rumor was way too juicy. I was the crazy ex who randomly showed up on a couple's vacation and slashed the new girl's tires.
Situation 2 (Anne's story)
The Rumor
On the first day of Anne's new job, she hit it off with her colleague, Chad. It was obvious that they got along fabulously. They started hanging out together and going out for coffee and lunch. One day Anne was seen coming back from Chad's car carrying a gym bag. They were obviously sleeping together.
The Reality
Anne did hit it off with Chad on her first day of work. They shared a similar sense of humor and got along like gangbusters. But, what people didn't realize was that Chad was gay. He decided not to come out in his professional life because they worked for an ultra-conservative company. When the rumors first started circulating that Anne and Chad were together, they thought it was hilarious – how could anyone not understand what was going on?
The situation with the gym bag is what took things from being amusing to annoying. Anne did go to Chad's car – to pick up a book that was in his gym bag. When people looked out the office window, they completely misinterpreted the situation, making for even more office gossip.
Anne ended up quitting her job nine months later to go to another company. The rumor mill reported she was leaving was because she was pregnant. Even though she told people that it wasn't true, her office went as far as to take up a collection for her and the new baby. A year later, one of Anne's former colleagues came to her house and asked about the baby. When Anne told her that there was no baby, her former colleague interpreted it as meaning she had terminated the pregnancy.
What's a Girl to Do?
Rumors can be incredibly painful, especially when they're about you. But is there anything we can do to protect ourselves when a rumor hits?
"Rumors can be a tricky thing to deal with," says psychiatrist Dr. Soroya Bacchus. "There really is only one way to get through or around them without exacerbating the problem: brush it off and go with the flow!"
Dr. Bacchus explains that rumors need fuel to spread. "Our bodies need food, cars need gasoline, and rumors need validation. If you are the brunt of a nasty rumor, getting upset and angry will only validate the aggressor and make it more pleasurable for those not on the receiving end to keep going."
Dr. Bacchus offers these tips on how to deal with a rumor:
Dismiss it as irrelevant. It won't be fun if people can't get a reaction out of you.
Don't get upset or angry. It only makes things worse.
Remind yourself that most people have a short attention span. People will soon move on to the next rumor.
Understand that social media can be a vicious tool for spreading gossip. Remove yourself from the situation by taking a break from it.
Try "thought stopping." When a negative thought pops up, stop it and replace it with something positive.
Finally, I think being the subject of a nasty rumor teaches us empathy. We can decide not to pass on information when it comes our way. We can stick up for other people. We can remember what it was like to be at the center of negative attention and decide to take gossip with a grain of salt. Because the perception and the reality of a situation can be two very different things.
Have you ever been the subject of a rumor? What was it? How did you handle it?
*****
Kaarin Moore is the owner of Closet Caucus, a fashion consulting company located in Washington, DC. Her goal is to help clients express who they are through the medium of clothing. You can reach her at www.closetcaucus.com or on twitter (@closetcaucus).