Is It Okay to Keep Secrets From Your Partner?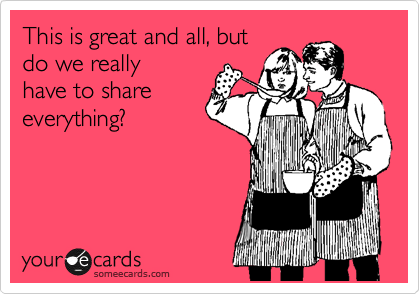 Originally published on SexReally.com on August 9, 2011
"The secret to marriage is to lie," a colleague once told me. "I hide how much money I spend on jewelry and my husband pretends not to notice."
This advice was given to me, unsolicited, by a woman who has been happily married for over thirty years. It made me laugh, but it also made me think about secrets in relationships. Is it really best to keep some things to yourself?
I've collected and weighed in on 4 scenarios where people stumbled upon their significant other's secret or kept a secret from their significant other. Are any of them doing the right thing by keeping a secret?
1. Secrets about Money
The Scenario: Carrie had been dating Kirk for over a month when she found out he was still living with his parents. "We kept going back to my place after dates," she said, "and one night I asked if we could go to his place and he said no. He ended up telling me he was deep in debt and lived in his childhood home with his parents. Did I mention he is 40?"
Carrie dated Kirk for almost two years after that. She didn't necessarily care that he had financial problems, but it did become an issue when, for example, Kirk had a boot put on his car. He couldn't pay to have it removed and the car was towed and eventually put up for auction. Lack of transportation meant logistical problems with seeing each other. For the length of their relationship Carrie knew Kirk had financial troubles, yet he continually tried to hide them from her.
"I think it was just about pride," she said. "I think it was hard for him to be that age and to not have money." She then relayed some advice her mother gave her when she started dating: "Romance without finance is a nuisance."
To Tell, Or Not To Tell: These days most people have debt and, in this economy, many are facing some type of financial difficulty. I think coming clean depends on the length and depth of the relationship. On a first date you may not want to mention that Mom and Dad are paying rent. But, if the relationship moves forward your partner is going to find out, so it is best to come clean.
If the relationship is moving even deeper into talks of, "Let's go shopping for engagement rings," there definitely needs to be a talk about finances. Do some soul searching about your financial expectations:
Does your partner need to be debt-free?
Do you plan to help your significant other pay off debt?
Are you prepared to go into a long-term relationship with someone whose credit score is dismal?
If you are the one who is having a money flow problem, it's best to think about your options before you get into a sticky situation. If you are dating it could mean talking with your significant other about what types of activities you want to do together (like packing a picnic versus going to a restaurant for a four-course meal). Basically, the deeper the commitment, the more open you and your partner should be about finances.
2. Secrets about Drug Use
The Scenario: Katie didn't know her boyfriend, Brian, smoked marijuana until she walked in on him smoking up. Opinions about personal drug use vary, but for Katie involvement with someone who smoked pot was out of the question. And Brian knew it.
Brian didn't flat out lie to Katie. Throughout their months of dating she never point blank asked him if he ever used drugs. His secret was omitting that particular part of his life.
"Was it lying? Yes, I do think it was a form of lying. It's dishonesty," Katie said. After Katie stumbled upon Brian's secret he admitted to smoking up multiple times per week.
To Tell, or Not to Tell: Brian hid something that he engaged in on a regular basis because he knew Katie wouldn't approve. Katie fell hard for him, but once she found out about his drug use she felt like she loved only a version of him that he wanted to reveal.
If you are like Katie and find that someone you love has been hiding their drug/alcohol use, there are numerous places where you can get help. Al-anon and Alateen are places where you can find support.
If you are keeping your drug / alcohol consumption a secret, it may be a sign of addiction. Let me be clear – it doesn't make you a bad person. Many people struggle with substance abuse, and there are places where you can get help. Check out these signs of drug abuse and addiction and if they seem familiar, look into getting help (a couple good starting places are Narc-Anon and Alcoholics Anonymous).
3. Secrets about Past Sexual Activity

The Scenario: At the end of Delaine Moore's marriage she had an affair. Now divorced, she dates regularly but doesn't feel a need to tell partners how her marriage ended. Even though Delaine keeps mum about her secret past, she is opening up about her dating life post-divorce in her new book, The Secret Life of a Newly Single Mom: A One-Year Memoir of Finding Sex & Satisfaction After Divorce.
To Tell, or Not to Tell: Your current partner doesn't need to know every detail of your sexual past. Delaine made a mistake, owned up to it, and is trying to move on with her life.
However, if your sexual past is going to potentially affect the health of your current partner, you must open up. If you have an STI or are HIV+, it's your ethical responsibility to inform potential partners about your status. In fact, withholding your HIV status is criminal in some states (find out the laws in your area.) Your partner(s) need(s) to be able to make an informed decision about their level of sexual involvement.
Not sure of your status? Then it's time to get tested. Unsure of your partner's status? It's time to have a conversation about it. It may be a bit uncomfortable, but your personal health is first and foremost. (Check out the article, "So, Uh, Got any STDs I Should Know About?" for helpful hints on how to start that talk.)
4. Secrets about Current Sexual Activity

The Scenario: From the outside Megan appears to be a normal wife and mother. The secret she keeps from her husband is that she has sex with strangers when she goes out of town on business.
"I can't believe I have done this…I'm ashamed of how I have acted and don't know what to do about it," she said. "What this says to me is that I shouldn't be in a relationship with my husband. I'm not getting what I need out of it—attention, appreciation, love, and sex."
To Tell, Or Not to Tell: Megan is very aware that what she is doing is wrong. Her secret could affect the sexual health of her husband and most certainly will influence the emotional health of her family. Right now Megan is living a dual life that isn't fair to anyone involved. Her secret needs to come to the surface so she can deal with the reasons behind her cheating.
In Sum…
Everyone has information that they would rather keep hidden. Many times holding your cards close can be a good idea. You are allowed to have your own life and to make mistakes along the way, after all, and sometimes your partner really doesn't need to know everything. But, when your secret could influence your partner's life—especially his/her emotional and physical health—you need to fess up. There might be anger and hurt. And there is a possibility that your significant other may leave you. Sometimes, though, the weight of keeping a secret is worse then the secret itself.
When Shakespeare wrote in Hamlet, "This above all: to thine own self be true," he probably didn't realize he was giving fantastic dating advice. But, he was on to something. You deserve to be fully yourself in a trusting relationship. If you are keeping secrets, think about your true reasons for not telling your partner. Is what you are holding back going to potentially endanger him/her? Then it's either time to come clean or end the relationship.
If you are the one who was lied to, try to think about the reasoning behind the secret. Was your partner trying to protect you, or did he/she hold things back for their own self-interest? Was it truly an oversight of omitting information? If so, maybe it is time to exercise forgiveness. If the secret is putting you in harm's way, though, it's time to let go.
There are no hard and fast rules about secrets because relationships have so many gray areas. However, two basic elements of love are trust and respect. Do you trust your partner? Do you feel he/she is respectful when it comes to your heart and your body? Only you can answer those questions.
*****
Kaarin Moore is the owner of Closet Caucus, a fashion consulting company located in Washington, DC. Her goal is to help clients express who they are through the medium of clothing. You can reach her at www.closetcaucus.com or on twitter (@closetcaucus).
37 Notes/ Hide
ellaminnowpea reblogged this from fuckyeahsexeducation