Dr. K on the safety of IUDs. If you've ever heard that IUDs aren't safe, this article is for you. 
More questions? Dr.K has "office hours" on Twitter every Tuesday from 7-9pm ET. Ask her by tweeting to #AskDrK and @Bedsider!
Method Monday: Birth Control for TV Characters - Round Three!
In Round Three of this Method Monday special (here's Round One and Round Two), join us in speculating about how Nashville star Juliette Barnes keeps her life baby-free, which methods the detectives on Brooklyn Nine-Nine rep, and whether there's any birth control option in the Game of Thrones universe, other than magic.
Character 1: Juliette Barnes, Nashville
Her method: The implant
Here's why:  Know what annoys Juliette more than her manager, her record label, and her multiplying rivals combined? Any risk of getting knocked up. It's true that our girl Juliette may not always be sensible about her choice of romantic partners, but we predict she's more vigilant about the impact an unplanned pregnancy would have on her career (not to mention her image). And does she want to think about popping a pill every day?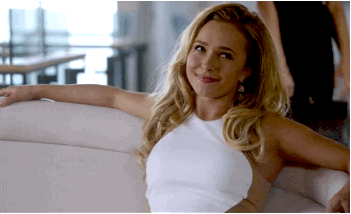 Probably not. That's why the implant is perfect for Juliette: it's easy, incredibly reliable, and lasts up to three years once in place. A bonus for Juliette is the implant's discreetness—no one can see it once it's inserted, which, for a paparazzi-hounded celeb like Juliette, just might be the winning feature. Don't worry, Juliette: your secret's safe with us.
Character 2: Mouse,The Carrie Diaries
Her method:  Male condom + the pill
Here's why:  The CW's Sex and the City reboot has charms galore, and the chief one just might be Jill "The Mouse" Chen. Mouse's nickname is only half the story: she is quiet, studious, and completely loyal to her friends. But she's no stick in the mud—she's feisty in standing up for her beliefs, and she seems to have a more satisfying sex life than most of the other characters on the show—though not without the occasional mishap.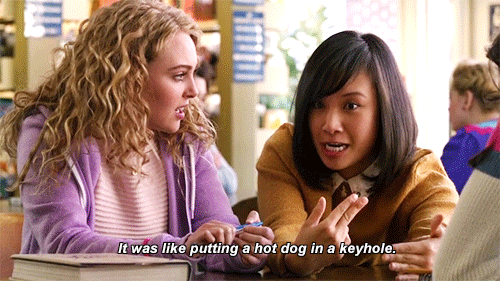 Mouse is the kind of girl who takes no chances with her future—an unplanned pregnancy or an STI might tank her chances at the Ivy League (and would be difficult to explain to her strict parents). That's why we're guessing she's using not one, but two methods of birth control—male condoms and the pill. Condoms protect her from STIs, and the pill adds an additional layer of protection from pregnancy: each method complements the other. Our hat's off to Mouse, who knows how to have fun, protect herself, and deliver real talk to her friends with just the right amount of love.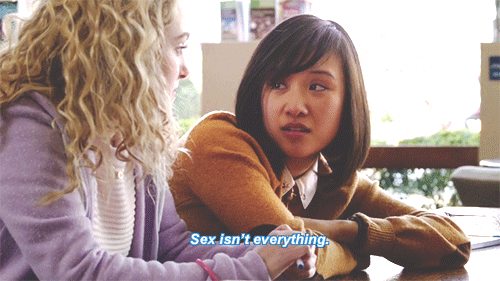 Character 3: Detective Amy Santiago, Brooklyn Nine-Nine
Her method:  IUD
Here's why:  Santiago's a classic Type-A personality: extremely focused, detail-oriented, and a stickler for getting things right. She's no slouch in the brains department, either, and clearly knows her way around an interrogation room. Best of all, despite her goody-two-shoes attitude, Santiago can hold her own in a bullpen of experienced cops and sling mud with the best of them.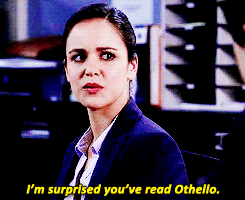 When it comes to birth control, we predict Santiago likes to have her bases covered, which is why an extremely reliable, low-maintenance choice like an IUD seems like a perfect fit. It's low fuss—no remembering to take a pill on a stakeout or forgetting you're out of condoms after three night shifts—and it's effective. So Santiago can focus on the things that really matter. Like showing she can handle the heat.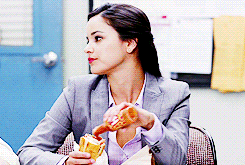 Character 4: Margaery Tyrell, Game of Thrones
Her method: Not right now
Here's why:  Poor Margaery—first married to a man who was in love with her brother and then was assassinated, then engaged to King Joffrey, a sociopath, who was also assassinated…Westeros must be wondering at her string of bad luck. But nothing stops Margaery; she's ambitious, politically savvy, and single-minded in the pursuit of her goals.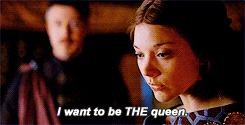 It's hard to say whether there's any reliable method of birth control in Westeros, but even if there was, Margaery wouldn't need it—yet. She's made a habit of abstinence, first with her husband, who wasn't interested in getting down with her, and then with Joffrey, who died before consummating their marriage. So Margaery's sex life is a non-starter, which may be just the way she likes it. For now, at least.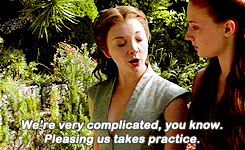 Dr. K tells us who can use the IUD. Want more? Here's some extra info about the IUD. 

More questions? Dr.K has "office hours" on Twitter every Tuesday from 7-9pm ET. Ask her by tweeting to #AskDrK and @Bedsider!
Before you start asking the questions, you should go confidently on the path of the IUD. Knowing that you definitely want to try the IUD will help you weather any potential bumps in the road to acquiring one. Bedsider has a super fun interactive guide to narrowing down your method—this will help you figure out if an IUD is right for you. I also recommend the Planned Parenthood My Method quiz. Remember, quizzes, guides, and health care providers are there to help you, but ultimately you'll know what you need better than anyone else.
Birth control, way back when: the 1970s
Modern life isn't perfect, but there are definitely some perks—like a whole lot more options when it comes to birth control. But what methods were couples using in the days of yore, while dialing land lines and watching Bewitched? Let's get in the WABAC machine and find out!
*****
The first birth control pills had way higher doses of hormones than today's pills and the Senate held hearings in 1970 about their safety. Lower-dose birth control pills were manufactured after the risks of high doses of estrogen to women's health were brought to light.
The Supreme Court's 1972 Baird v. Eisenstadt ruling established that all women had a right to access birth control. The struggles for access of the 1960s were over—but new problems were on the horizon.
IUDs were trendy in the 70s, and one popular brand, the Dalkon Shield, turned out to have a flawed design that caused serious health problems and damaged the IUD's reputation for many years. What could have been the heyday of one of the most effective methods instead turned a generation of women away from IUDs for good.
The silver lining? After Dalkon, the FDA began thoroughly vetting all medical devices, making future birth control innovations safer for everyone. Today, IUDs are one of the safest, most effective methods around, and have finally earned their spot in the limelight.
Groovy;)
****Dalkon Shield image by User:RatchickAndy (Own work) [CC-BY-SA-3.0], via Wikimedia Commons.
Birth control, way back when
"Peabody's Wayback Machine" image by Twechie.
Modern life isn't perfect, but there are definitely some perks. Where previous generations had to carry paper maps around while traveling and make do with Eggos, we've got smart phones and gluten-free waffles. There are also a lot more options when it comes to birth control.
So what birth control methods were they using in the U.S. while dialing land-lines and watching Bewitched? Let's get in the WABAC machine and find out! In our new series, "Birth Control, Way Back When," we'll be exploring birth control methods from the days of yore, when dropping by Walgreens for Plan B on your way to brunch was as far in the future as a self-driving car.We've scoured sources both popular and scholarly to bring you the highlights of birth control from a variety of decades. If you can't wait for the first post, some of our favorite resources on the topic are Linda Gordon's The Moral Property of Women: A History of Birth Control Politics in America, Elain Tyler May's America and the Pill: A History of Promise, Peril, and Liberation, and Planned Parenthood's 3 minute video history of oral contraceptives.
Got a story about birth control methods past or a juicy bit of birth control trivia? Drop us a line in the comments; we'd love to hear from you!
Once a Copper T is in place, copper ions separate from the coiled copper wire and begin to alter the biochemistry around the uterus. 'Alter' sounds like a strong and permanent word, but it really isn't. The copper ions leach into uterine fluids and the cervical mucus — when these fluids come in contact with sperm, the copper ions sound the death knell for the squiggly beasts.
Does the copper IUD make periods more painful? (Maybe…but it's worth it.)
1. The insertion
I'm lying on my back, there's a speculum shoved inside me, and I'm staring at a ridiculous poster of a palm tree that's tacked to the ceiling. I grip my best friend's hand tightly—I'm about to get my first IUD inserted. (Side note—my boyfriend was supposed to go with me, but instead he dumped me the previous day. Fortunately, my best friend is way better company anyway—and highly effective birth control is pretty much always a good idea, even when you don't have a boyfriend.)
I've always had painful menstrual cramps and I knew the copper IUD would make them worse—but at age 19, I had already been around the block with birth control. The hormones in the ring and the pill made me depressed (research shows hormonal methods don't cause depression on a broad scale—but everyone is different and they sure caused it in me). I tried the good old-fashioned diaphragm, but that was really uncomfortable as well as decidedly unsexy (I spent 20 minutes in the bathroom trying to get the slippery thing in while my partner called out "do you need any help?") And I had a whopping total of six condoms break or fall off (and yes, I know how to put on a condom correctly), so I knew I couldn't count on condoms alone.
By process of elimination, I found myself looking at the palm tree poster while my doctor said "There's a tiny chance that this might perforate your uterus and we'll have to take you to the ER." (Side note—IUD perforations are super rare, and when they do happen a skilled doctor should be able to stop the insertion and the uterus will heal within a week.)
I'm not gonna lie, the insertion hurt like a bitch. It was probably the most painful thing that I've ever experienced in my life. Then again, I've never broken a bone, had surgery, given birth, or generally experienced anything all that painful.
The intense pain faded after about 5 seconds and was promptly replaced with cramps. For two days I felt waves of sharp pain attacking my uterus. The constant pain faded after that, but I experienced some cramping on and off for the next month.
2. The periods
I'm gonna be super honest here. For the first year with the ParaGard, my periods were really painful. I basically made best friends with ibuprofen—if I took the medical dose, I could function as a normal human, but if I didn't I felt like someone was repeatedly stabbing my abdomen.
I was also bleeding a lot—like a lot. I use the DivaCup, which holds an ounce of blood. Divacup.com says that "the average woman only flows approximately 1 to 1.4 ounces per cycle" but I was filling it up about two times a day for the first three days of my period.
3. The take-away
But don't let the blood and pain deter you. My case is far from universal—many of my copper-IUD-toting friends have much easier periods than I do (and the hormonal IUDs actually make your periods lighter). And even with my side effects, it's still completely worth it to me. My painful periods faded after about a year (I only took four ibuprofen for my whole cycle last month!), and although they're still heavy, I'm taking an iron supplement and giving thanks for my DivaCup.
I would get the IUD again in a heartbeat, and I'm currently in the process of convincing four of my friends to try it—because a little bit of blood and pain is a small price to pay for over 99% certainty that I won't have a baby. Every time I get my period and feel those cramps coming, I remind myself that getting an abortion or giving birth would be a whole lot more painful.
Most of all, I loved the moment when I checked out of the doctors office and they gave me an appointment card reminder—for 2020. I laughed because 1. There was no way I was going to keep that card for ten years (how many wallets and purses will I go through in that time?) and 2. I don't have to worry about birth control until 2020. And who knows—maybe there will be male birth control by then.
Image via Great Beyond.
*****
Hannah Strom is an intern at Bedsider. She enjoys writing about sex ed, pop culture, and feminism.