A Vindication of Love: Just How Much Should Love Hurt?
Originally published on SexReally.com on June 24, 2009.
An assistant writing professor at George Washington University taught a course a couple of years ago called "Love, American Style." To her surprise, her students (all female) enjoyed discussing "chick lit" books like Bridget Jones' Diary but were not inspired by deeply romantic novels such as Jane Eyre. Quick flings were okay with students, this professor told me, "but love was rarely mentioned. They were not that interested in it as a concept for their lives."
Of all the readings she assigned, their favorite was an anthology of poetry entitled The Hell with Love.
Love is not an easy emotion for anyone to live with. For those of you who work hard and play hard, it can embrace you in what can seem a paralyzing squeeze. In the eyes of your friends, colleagues, parents, and/or teachers, love is a nice but muddy-headed emotion that you just have to get over if you want to be taken seriously as a student, a professional, a thinker.
So you're tempted to tell yourself, "I'm not ready for love," even as you try to fight off the feelings you're starting to have for the soccer player you met or the colleague with whom you've shared a couple of drinks after work.
Essayist Cristina Nehring might advise you to stop fighting and give in to those instincts.
In her new book, A Vindication of Love, Nehring comes to love's rescue. But the emotion she describes and defends in her romp through Western literature and poetry is not necessarily the love that many of us would want as a regular diet. In fact, it's a dangerous kind of love that could lead some women and men to make exceedingly bad choices. (She opens with the passion-story of 18th-century author and feminist Mary Wollstonecraft, who twice attempted suicide over a man.)
But it is romantic love, all the same—the love, for example, of Pride and Prejudice's Elizabeth Bennet for Fitzwilliam Darcy, or of Emily Dickinson's letters to her "Master." And, to Nehring's credit, she is not afraid to defend it. Nehring never actually tells us what love is, but she has quite a bit to say about what love is not.
It is not, for example, "sex-on-tap," or "the relentless emphasis on sexual climax that…has a largely depleting effect on the life of the emotions." "When erotic intimacy is available at the tap of a mouse," she writes, "or, indeed, at the amiable request of one's household partner ("what about a quickie before lunch, dear?"); when magazines nudge us to "claim" orgasms as we do receipts at the end of our transactions at Starbucks; when Broadway hits like Eve Ensler's The Vagina Monologues have women hollering the names of their genitals and baking cakes in their shape, then sex has simply become too available."
This availability makes romance impossible, she says, because romance depends on "other-ness, tension, and reserve." Absence does indeed make the heart grow fonder.
Love is also not an equal partnership, in her view. It is the ardor of a college student for her professor, a young man for an older man. It is frequently not sanctioned – bravo the adulterer! – and even forbidden, as in "Don't go near that player. He's only using you."
Hers is not a pretty love. She writes: "I bear the bodily scars of a loss or two in love. I have been derailed by love, hospitalized by love, flung around five continents, shaken, overjoyed, inspired and unsettled by love."
Such words may comfort those who have pursued a love affair that was as exhausting as it was exhilarating, that threatened one's mental, and even physical, health. It may also encourage some girls to ask what they've missed.
And it may provoke readers such as Anne Kubitsky, a 26-year-old designer and writer, to say, "Been there, done that, not going there again." Nehring's description of love, says Anne, "sounds a lot like what I thought love was in high school and college, and this led to extreme emotions and behaviors that were not good." True love, she says, is not needy, and comes only after you know you are "whole, complete, and have everything you need to be happy, fulfilled, and satisfied."
Anne provides a clue as to why the students of "Love, American Style" so appreciated The Hell with Love, which is described as "a one-of-a-kind collection that helps you through the classic stages of heartbreak." Perhaps they too had been there and done that.
Those who value the secure, companionable love that Anne describes may wish for another book to sit beside The Hell with Love and A Vindication – a book that tells stories of compassion, as well as passion, and the sweet splendor of everyday love.
Have you ever experienced the kind of love Christina Nehring describes?
Would you want to experience it (again)?
*****
Laura Sessions Stepp is a Pulitzer Prize-winning journalist, formerly with The Washington Post, who specializes in the coverage of young people. She has written two books: "Unhooked: How Young Women Pursue Sex, Delay Love and Lose at Both," and "Our Last Best Shot: Guiding Our Children through Early Adolescence." She is a consultant to The National Campaign to Prevent Teen and Unplanned Pregnancy.
Red Alert: 5 Ways Your Dating Life May Be Driving Your Friends Crazy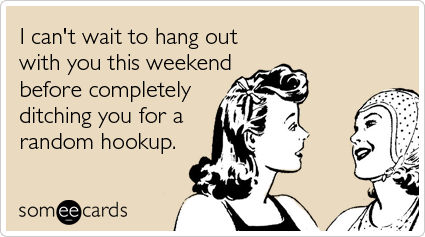 Originally published on SexReally.com on June 6, 2011.
Friends are forever, but we often put more attention toward romantic relationships. Maybe you found the perfect guy—handsome, smart, funny, and everything you hoped he would be. Or, maybe you haven't found a partner yet, but you are having a fabulous time flitting from date to date, then dishing to your gal pals about every glorious moment. Maybe you are starting to notice that your girls are acting a bit odd every time you start chatting about romance. What's going on? Why are they tuning you out? Isn't the point of having a group of girlfriends that they listen to every story about your dating life? You may be committing one (or more!) of the 5 rookie mistakes of the romance-friendship balance. Read on and, if you realize you're doing any of this, get back on track before it's too late!
1. You drop your friends.
You are in love, with a capital "L", and want to spend every waking moment with your significant other. You are so smitten that your calendar soon fills up with movie nights, reality-TV evenings, and romantic day trips. Your friends don't even have a chance to respond to your dating life anymore because you aren't around to tell them about it.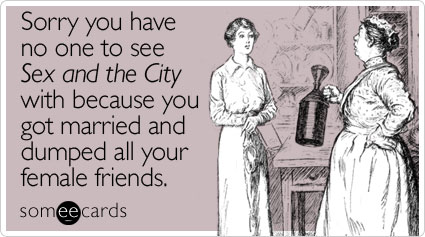 If this is you: The e-card above was popular when the first Sex and the City movie came out. I got such a chuckle out of it because it exactly described what I observed happening to some of the women in my life. The ones who had completely abandoned their friends didn't have anyone to see the movie with when their husbands/boyfriends/fiancés wouldn't go.
It's hard not to get sucked into the Love Bubble*, especially if you are experiencing your first taste of a real relationship. But always, always remember your roots. It's important to keep up with the people you had in your life BPC (before Prince Charming). For one thing, if your relationship blows up, you will need those people. Otherwise you will be without your guy and without your old group of friends because they moved on when you weren't paying attention.
Even if the relationship is The One and you will be with this person Forever and Ever, it's still incredibly important to have a variety of people in your life. Friends enrich your life, bring you fresh perspective, and keep you true to who you are.
*Love Bubble [luhv buhb-uh l] noun, Invisible force field around two people who are in love that keeps them focused only on each other. Signs include spending countless days/nights together, googly eyes, pet nicknames, and inside jokes.
How to get things back on track: Your friends are your friends for a reason. Chances are they are wonderful, kind people who will forgive and forget, especially if you acknowledge your mistakes. Depending on how much time has been spent away, it may take some effort to rebuild bridges, but get started right away. Invite one of them out for coffee. Spend an evening just chatting. And shut up about Prince Charming—ask your friend how she is doing.
Also, in the future, make time for your friendships even if you are in the best relationship of your life. You had people you cared about before your significant other came along and a couple hours apart are not going to kill either one of you. It actually might help your relationship!
2. You are always scouting.
You are out with your wonderful gal pals having a night on the town. Or, maybe you are doing something tame, like having brunch on the weekend. No matter the location, you are always looking around for people you're attracted to. Now, there's nothing wrong with checking out a little eye candy. If you are out and the group goal is to meet as many attractive people as possible, that's one thing. But using your friends as a means to continually scout potential partners is not only rude, it can be extremely frustrating to the people you are out with.
If this is you: This was the case with a friend of mine. Every time we went out together, while she pretended to listen she was actually looking around for her next boyfriend. It went a little further than that—she would pick tables, events, and places to stand and talk based on the proximity of an available man. I didn't pick up on it at first, but it became more and more obvious based on how she was dressed. When we were out she was all dolled up. On the trip back she would put her hair in a ponytail, put on her glasses, and actually make conversation with me. It's as if she switched on and off her persona. It's okay if you want to get all divalicious, then relax when the night comes to a close. But if you are becoming two separate people within the course of one evening, something is wrong.
How to get things back on track: If you are going out with your friends, go out with your friends. It's okay to run into someone new along the way or start a conversation with an attractive person, but don't use your friends as a means to meet other people because you are insecure. Go out, have a great time, listen to your friends, and become engaged with their lives. Confidence and actually having a life will always be sexy.
3. You talk non-stop about your significant other.
Your significant other is amazing. He does 100 cute things a day, and you want to list them one by one to anyone who will listen. Here's the big news flash: no one really cares. Okay, that sounds harsh, and it isn't 100% true. Your friends do care about your relationships and they do want to know what's going on in your life. But they don't want to know Every. Single. Detail. The only person who has that minutia level of interest in your daily relationship life is you. That doesn't mean you have to keep mum all the time. It just means keep things in check.
If this is you: If you are happy, chances are your friends are happy for you. Every now and then it's okay to gush about the latest romantic thing your partner did, or a funny story about his work. Remember, though, that the world doesn't revolve around your relationship. Your friends have stories they want to tell, too.
How to get things back on track: Ask your friends questions. It's as simple as that. Every now and then the topic of conversation will be all about you, but make sure there's a balance. It's wonderful that you are happy! Don't feel the need to hide that feeling, but take an active interest in other people. And don't just wait for a pause in the conversation to make it all about you once more.
4. When you talk about your relationship, you only talk about the bad stuff.
No matter how much we love our partners, chances are one day they are going to do or say something really stupid. Or, the two of you are going to get in a fight…or fight about the same thing for the 300th time. When those things happen, you are going to want to talk about it. But if all you are doing is telling friends awful things about your significant other, guess what? They aren't going to like him.
If this is you: Again, wanting to vent about your guy is natural and it happens to everyone. Check yourself, though. Are you only telling your girls the bad things? Your friends love you and want you to be safe and happy, so if the only thing you are telling them is that he's the scum of the earth, they are going to believe (surprise!) he is the scum of the earth.
How to get things back on track: You have three choices. You can a) admit that even though your guy might drive you crazy sometimes, really the good things outweigh the bad. Tell your friends about the good stuff, too. Or, you can b) realize that you spend a lot of time complaining, regardless of subject, and make an effort to start watching what you say about other people in general. Or, c) if your stories are really bad, it might be because you are in a bad relationship. If so, get out. Life is too short and there are too many wonderful people out there to be miserable all the time.
5. You make stupid decisions without thinking about how they affect the people around you.
You had unprotected sex. Or are in a relationship with someone who is married. Or are dating someone who is actually dangerous. It is your life and you can make any decision you want, but remember your actions affect those around you.
If this is you: Everyone makes stupid decisions every now and then. Part of growing up is learning how to take responsibility for those actions. Your body is your body, and you really can do anything you want. But, people are invested in you and your life, so if you put yourself in a dangerous or difficult situation, it can influence their lives as well.
How to get things back on track: If you have had unprotected sex , get tested for STIs and pregnancy (and if it's been less than 5 days, use emergency contraception). Then learn about your contraceptive options and invest in some condoms for STI prevention. If you are in a relationship with someone who is married , get out as soon as possible. If you are dating someone who is threatening you physically and/or emotionally, get help and get out. Basically, love yourself as much as your friends love you. You don't always have to agree them, but if they are worried about you, listen to what they are saying. They may have a point.
*****
Life is all about balance, and balancing work, love, and friendship will always be a bit tricky. But it is possible to have a solid relationship while cultivating your friendships at the same time. What are some of your strategies for balancing relationships and friendships? Have you ever had a friend do one of the above things to you? How did you deal with it?
*****
Kaarin Moore is the owner of Closet Caucus, a fashion consulting company located in Washington, DC. Her goal is to help clients express who they are through the medium of clothing. You can reach her at www.closetcaucus.com or on twitter (@closetcaucus).
The Feminist Guide to Hot, Happy, Healthy Sex
Originally published on SexReally.com on October 15, 2010.
When Amanda Hess of The Washington City Paper interviewed Jaclyn Friedman about "fucking while feminist" last spring, the blogosphere exploded with responses, head nods, and sighs of "Oh, Finally!" I'm probably not an impartial observer (full disclosure: Friedman is the executive director of Women, Action, & the Media, an organization I interned for during my senior spring of college), but I'm clearly not the only one who thinks that it's high time we had a discussion about the impact of feminist beliefs on romantic and sexual relationships.
Last month in New York, I chatted about gender politics, kink, and sex-positive feminism with Zoe Yang, who wrote a sex column at Pomona College as an undergraduate. Yang told me that a lot of people assume BDSM or kinky sex is automatically anti-woman, but Yang doesn't define feminist sex according to the sexual acts taking place. Rather, she looks at the motivations behind them. She says that there's a "self-hood" and "authenticity" to feminist sex that's missing in the Please-Your-Man-style intercourse often prescribed by Cosmo. As a girl who grew up on the likes of Cosmo, I was in complete agreement. It's hard to take charge of your sexuality as a woman when you're constantly taught how important it is to land and keep a man. So much of what we do (or don't do) in the bedroom is decided based on our ideas of what makes us attractive to potential mates. Feminist sex and dating means that we stop being martyrs for men — but that doesn't mean eschewing fun and pleasure. If anything, it maximizes both!
As Friedman told Hess in their conversation: "A couple of guys were shocked that I like to play various games in bed, because I'm a feminist. That's always really interesting to me. I'm always like, 'Are you kidding me? The feminists I know are the craziest women in bed you can find!'" Feminist sex doesn't have to be vanilla or very PC. But what differentiates it from your run-of-the-mill sexual encounter is that it recognizes the importance of satisfying everyone's needs. In other words, a gal shouldn't feel the need to play coquette or vamp because of what she thinks is expected of her. Gender equality in the bedroom also doesn't mean prioritizing your own pleasure over your partner's (that wouldn't be very equal, after all!), but it does mean that we ought to recognize how male sexual experience has historically been privileged while female desire (or lack thereof) has been pathologized. The days of declaring women "frigid" or "hysteric" may be long past, but slut-shaming remains very much a problem.
And of course, feminist sex also means that we keep in mind how fluid sexual identity and experience can be. There isn't only one way to have sex, nor is there a "best" way. Great sex might include people of the same gender, multiple people, toys, games, etc. A lot of times, even straight, cisgendered couples find that there are other sexual acts more intimate and satisfying than vaginal intercourse. As long as you're comfortable with what you're doing, exploring your options is the best way to figure out what you and your partner(s) enjoy(s) the most.
For the next episode of Sex Really with Lena Chen, I invited three women — Chloe Angyal from Feministing, Amelia Parry-McDonell from The Frisky, and Yang — to talk to me about all the ins and outs of feminist dating and sex: What makes the personal political? What constitutes a dealbreaker? And perhaps trickiest of all, how does one "come out" to a date as a feminist? Tune in for their take on these tough questions, and share your opinion in the comments below!
*****
Lena Chen is a blogger, writer and speaker on sex, gender and feminism. As a Harvard undergrad, she authored the blog Sex and the Ivy and her writing has been featured in The New York Times and Newsweek. She currently blogs at The Chicktionary.
Is It Okay to Keep Secrets From Your Partner?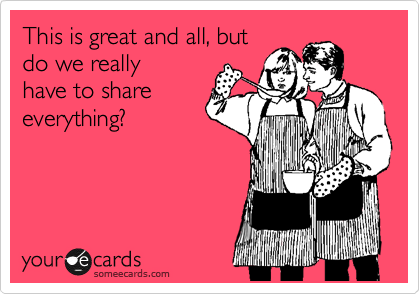 Originally published on SexReally.com on August 9, 2011
"The secret to marriage is to lie," a colleague once told me. "I hide how much money I spend on jewelry and my husband pretends not to notice."
This advice was given to me, unsolicited, by a woman who has been happily married for over thirty years. It made me laugh, but it also made me think about secrets in relationships. Is it really best to keep some things to yourself?
I've collected and weighed in on 4 scenarios where people stumbled upon their significant other's secret or kept a secret from their significant other. Are any of them doing the right thing by keeping a secret?
1. Secrets about Money
The Scenario: Carrie had been dating Kirk for over a month when she found out he was still living with his parents. "We kept going back to my place after dates," she said, "and one night I asked if we could go to his place and he said no. He ended up telling me he was deep in debt and lived in his childhood home with his parents. Did I mention he is 40?"
Carrie dated Kirk for almost two years after that. She didn't necessarily care that he had financial problems, but it did become an issue when, for example, Kirk had a boot put on his car. He couldn't pay to have it removed and the car was towed and eventually put up for auction. Lack of transportation meant logistical problems with seeing each other. For the length of their relationship Carrie knew Kirk had financial troubles, yet he continually tried to hide them from her.
"I think it was just about pride," she said. "I think it was hard for him to be that age and to not have money." She then relayed some advice her mother gave her when she started dating: "Romance without finance is a nuisance."
To Tell, Or Not To Tell: These days most people have debt and, in this economy, many are facing some type of financial difficulty. I think coming clean depends on the length and depth of the relationship. On a first date you may not want to mention that Mom and Dad are paying rent. But, if the relationship moves forward your partner is going to find out, so it is best to come clean.
If the relationship is moving even deeper into talks of, "Let's go shopping for engagement rings," there definitely needs to be a talk about finances. Do some soul searching about your financial expectations:
Does your partner need to be debt-free?
Do you plan to help your significant other pay off debt?
Are you prepared to go into a long-term relationship with someone whose credit score is dismal?
If you are the one who is having a money flow problem, it's best to think about your options before you get into a sticky situation. If you are dating it could mean talking with your significant other about what types of activities you want to do together (like packing a picnic versus going to a restaurant for a four-course meal). Basically, the deeper the commitment, the more open you and your partner should be about finances.
2. Secrets about Drug Use
The Scenario: Katie didn't know her boyfriend, Brian, smoked marijuana until she walked in on him smoking up. Opinions about personal drug use vary, but for Katie involvement with someone who smoked pot was out of the question. And Brian knew it.
Brian didn't flat out lie to Katie. Throughout their months of dating she never point blank asked him if he ever used drugs. His secret was omitting that particular part of his life.
"Was it lying? Yes, I do think it was a form of lying. It's dishonesty," Katie said. After Katie stumbled upon Brian's secret he admitted to smoking up multiple times per week.
To Tell, or Not to Tell: Brian hid something that he engaged in on a regular basis because he knew Katie wouldn't approve. Katie fell hard for him, but once she found out about his drug use she felt like she loved only a version of him that he wanted to reveal.
If you are like Katie and find that someone you love has been hiding their drug/alcohol use, there are numerous places where you can get help. Al-anon and Alateen are places where you can find support.
If you are keeping your drug / alcohol consumption a secret, it may be a sign of addiction. Let me be clear – it doesn't make you a bad person. Many people struggle with substance abuse, and there are places where you can get help. Check out these signs of drug abuse and addiction and if they seem familiar, look into getting help (a couple good starting places are Narc-Anon and Alcoholics Anonymous).
3. Secrets about Past Sexual Activity

The Scenario: At the end of Delaine Moore's marriage she had an affair. Now divorced, she dates regularly but doesn't feel a need to tell partners how her marriage ended. Even though Delaine keeps mum about her secret past, she is opening up about her dating life post-divorce in her new book, The Secret Life of a Newly Single Mom: A One-Year Memoir of Finding Sex & Satisfaction After Divorce.
To Tell, or Not to Tell: Your current partner doesn't need to know every detail of your sexual past. Delaine made a mistake, owned up to it, and is trying to move on with her life.
However, if your sexual past is going to potentially affect the health of your current partner, you must open up. If you have an STI or are HIV+, it's your ethical responsibility to inform potential partners about your status. In fact, withholding your HIV status is criminal in some states (find out the laws in your area.) Your partner(s) need(s) to be able to make an informed decision about their level of sexual involvement.
Not sure of your status? Then it's time to get tested. Unsure of your partner's status? It's time to have a conversation about it. It may be a bit uncomfortable, but your personal health is first and foremost. (Check out the article, "So, Uh, Got any STDs I Should Know About?" for helpful hints on how to start that talk.)
4. Secrets about Current Sexual Activity

The Scenario: From the outside Megan appears to be a normal wife and mother. The secret she keeps from her husband is that she has sex with strangers when she goes out of town on business.
"I can't believe I have done this…I'm ashamed of how I have acted and don't know what to do about it," she said. "What this says to me is that I shouldn't be in a relationship with my husband. I'm not getting what I need out of it—attention, appreciation, love, and sex."
To Tell, Or Not to Tell: Megan is very aware that what she is doing is wrong. Her secret could affect the sexual health of her husband and most certainly will influence the emotional health of her family. Right now Megan is living a dual life that isn't fair to anyone involved. Her secret needs to come to the surface so she can deal with the reasons behind her cheating.
In Sum…
Everyone has information that they would rather keep hidden. Many times holding your cards close can be a good idea. You are allowed to have your own life and to make mistakes along the way, after all, and sometimes your partner really doesn't need to know everything. But, when your secret could influence your partner's life—especially his/her emotional and physical health—you need to fess up. There might be anger and hurt. And there is a possibility that your significant other may leave you. Sometimes, though, the weight of keeping a secret is worse then the secret itself.
When Shakespeare wrote in Hamlet, "This above all: to thine own self be true," he probably didn't realize he was giving fantastic dating advice. But, he was on to something. You deserve to be fully yourself in a trusting relationship. If you are keeping secrets, think about your true reasons for not telling your partner. Is what you are holding back going to potentially endanger him/her? Then it's either time to come clean or end the relationship.
If you are the one who was lied to, try to think about the reasoning behind the secret. Was your partner trying to protect you, or did he/she hold things back for their own self-interest? Was it truly an oversight of omitting information? If so, maybe it is time to exercise forgiveness. If the secret is putting you in harm's way, though, it's time to let go.
There are no hard and fast rules about secrets because relationships have so many gray areas. However, two basic elements of love are trust and respect. Do you trust your partner? Do you feel he/she is respectful when it comes to your heart and your body? Only you can answer those questions.
*****
Kaarin Moore is the owner of Closet Caucus, a fashion consulting company located in Washington, DC. Her goal is to help clients express who they are through the medium of clothing. You can reach her at www.closetcaucus.com or on twitter (@closetcaucus).
Rumor Has It: How to Deal When the Hot Gossip's About You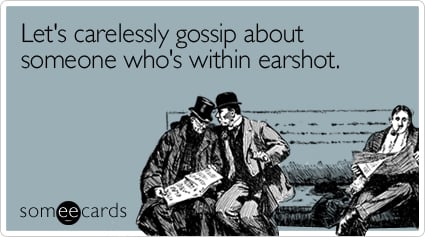 Originally published on SexReally.com on September 21, 2011.
Once upon a time, in college, I flew into a jealous rage and slashed the tires of a girl's car. Or so the rumors said. That's the thing about rumors – they tend to have a life of their own. But is it possible to control, or at least contain, a rumor?
Scenario 1 (My story)
The Rumor
I showed up uninvited to a beach vacation that included my ex-boyfriend, Mitch, his new girlfriend, Elizabeth, and 15 of their friends. I purposefully did this in order to taunt Elizabeth and ruin everyone's vacation. We went out one evening as a group and halfway through the night I disappeared. The next morning Elizabeth discovered that her tires were slashed. Even though we were all at the same hotel she was the only person whose car was disturbed. Thus, obviously she was the target of an act of jealousy. When I slipped away during the evening I must have come back to damage her car, thus forcing her to purchase new tires and spend half of her vacation at the nearest garage.
The Reality
One evening I ran into my friend, Kathy, and asked her how she was doing. She burst into tears. Her boyfriend of four years broke up with her the week before and she was a mess. She was trying to keep herself busy and said yes when a group of friends invited her on a last minute trip to the beach. She asked if I would like to come along so we could spend some time together while soaking up the rays.
The next day, Kathy and I arrived at the beach and went to check into the hotel where the group was staying. I walked into the lobby and felt my stomach drop to my knees. There was my ex and his new girlfriend standing at the counter. I didn't know that Kathy and Mitch knew each other and shared many of the same friends. Talk about awkward.
That evening we went out for drinks as a group. Even though the situation was highly uncomfortable, there were enough people there that I could keep my distance from Mitch and Elizabeth. We went club hopping and, as the evening progressed, Kathy got more and more drunk. At 1AM I found her sitting on the bathroom floor of a club sobbing. So, I helped her up, took her outside, and grabbed a cab. When we got back to the hotel, I put her into bed and we both went to sleep.
The next day I found out that Elizabeth's tires had been slashed and that I was deemed the culprit. I didn't even know Mitch and Elizabeth were going to be there! I didn't know what type of car Elizabeth owned! Did people think I carried knives with me to the beach? There were so many holes in the logic – how could anyone think I would do such a thing? But ultimately it didn't matter. The rumor was way too juicy. I was the crazy ex who randomly showed up on a couple's vacation and slashed the new girl's tires.
Situation 2 (Anne's story)
The Rumor
On the first day of Anne's new job, she hit it off with her colleague, Chad. It was obvious that they got along fabulously. They started hanging out together and going out for coffee and lunch. One day Anne was seen coming back from Chad's car carrying a gym bag. They were obviously sleeping together.
The Reality
Anne did hit it off with Chad on her first day of work. They shared a similar sense of humor and got along like gangbusters. But, what people didn't realize was that Chad was gay. He decided not to come out in his professional life because they worked for an ultra-conservative company. When the rumors first started circulating that Anne and Chad were together, they thought it was hilarious – how could anyone not understand what was going on?
The situation with the gym bag is what took things from being amusing to annoying. Anne did go to Chad's car – to pick up a book that was in his gym bag. When people looked out the office window, they completely misinterpreted the situation, making for even more office gossip.
Anne ended up quitting her job nine months later to go to another company. The rumor mill reported she was leaving was because she was pregnant. Even though she told people that it wasn't true, her office went as far as to take up a collection for her and the new baby. A year later, one of Anne's former colleagues came to her house and asked about the baby. When Anne told her that there was no baby, her former colleague interpreted it as meaning she had terminated the pregnancy.
What's a Girl to Do?
Rumors can be incredibly painful, especially when they're about you. But is there anything we can do to protect ourselves when a rumor hits?
"Rumors can be a tricky thing to deal with," says psychiatrist Dr. Soroya Bacchus. "There really is only one way to get through or around them without exacerbating the problem: brush it off and go with the flow!"
Dr. Bacchus explains that rumors need fuel to spread. "Our bodies need food, cars need gasoline, and rumors need validation. If you are the brunt of a nasty rumor, getting upset and angry will only validate the aggressor and make it more pleasurable for those not on the receiving end to keep going."
Dr. Bacchus offers these tips on how to deal with a rumor:
Dismiss it as irrelevant. It won't be fun if people can't get a reaction out of you.
Don't get upset or angry. It only makes things worse.
Remind yourself that most people have a short attention span. People will soon move on to the next rumor.
Understand that social media can be a vicious tool for spreading gossip. Remove yourself from the situation by taking a break from it.
Try "thought stopping." When a negative thought pops up, stop it and replace it with something positive.
Finally, I think being the subject of a nasty rumor teaches us empathy. We can decide not to pass on information when it comes our way. We can stick up for other people. We can remember what it was like to be at the center of negative attention and decide to take gossip with a grain of salt. Because the perception and the reality of a situation can be two very different things.
Have you ever been the subject of a rumor? What was it? How did you handle it?
*****
Kaarin Moore is the owner of Closet Caucus, a fashion consulting company located in Washington, DC. Her goal is to help clients express who they are through the medium of clothing. You can reach her at www.closetcaucus.com or on twitter (@closetcaucus).
How Shaving Caused Me to (Literally and Figuratively) Grow Balls
Originally published on SexReally.com on July 5, 2011.
Last summer I grew balls. I'm not saying this in an I-got-spunky-and-feisty kind of way. I mean I grew two sacks filled with fluid between my vagina and anus due to a shaving accident.
Here's how it happened: I was in the shower shaving with a new razor and, unbeknownst to me at the time, shaved in a way that caused two ingrown hairs. These hairs got so infected that, over a period of a couple of days, one was the size of a quarter and the other the size of a nickel.
I didn't notice them until I started having a burning sensation when I walked. I sat down on the floor with a mirror and looked at my vaginal region, where I saw two big lumps. My immediate reaction was one of absolute panic. Did I get some kind of STI and didn't know it?
I immediately called a girlfriend of mine who worked at a nonprofit that educates teens about STIs and AIDS. I described the lumps to her in complete detail. My amazing friend asked lots of questions and didn't get grossed out or judgmental during our conversation.
"Girl, you have ingrown hairs," she concluded.
"What?" I had been shaving since I was a tween and had never had an ingrown hair before. After all that experience, how could I possibly have done such a bad job shaving?
I'm ashamed to admit that it took another day to actually call a doctor. I was embarrassed by what I saw and kept hoping it would go away on its own, but by the following day I was in so much pain that my sense of modesty went, along with my refusal to face reality, completely out the window. A call to my doctor was in order.
I relayed my story to a receptionist, who in turn told the story to my doctor. Within an hour I had an appointment with a dermatologic surgeon. Two hours after that I was sitting in stirrups preparing for emergency surgery. A nurse put shots of numbing medicine into the lumps themselves so that the surgeon could go in and lacerate them. I was lying on my back screaming curse words into the air as the nurse shot the numbing medicine into my "balls." In the middle of all that cursing it hit me: I was getting my balls cut off.
It took about fifteen minutes, and I'm so glad that my vantage point didn't allow me to see what was going on. I did lift up my body at one point to look, but my doctor scolded me, saying, "What are you doing looking? There's nothing to see here." After a two-second glimpse into the action, which featured my doctor and a nurse with tons of gauze covered in puss and blood, I was happy to stare at the ceiling for the rest of the procedure.
When it was over, my doctor sent me home with a prescription for antibiotics and instructions on how to place gauze over the area. The bandages had to be changed every time I went to the bathroom and let's just say I didn't fully realize the amount of water I consume until this experience.
Hair removal in the bikini area is the subject matter of the documentary Why We Wax by Kimberley Wetherell, Amy Axelson, and Suzanne Pancrazi. Jane Pratt, who interviewed Wetherell and Axelson about their movie and waxing techniques, also wrote about a waxing experience as part of her new online magazine XOJane.com. The idea is this: waxing and shaving the pubic region is nothing new. Women talk about it, men know about it, and both sometimes have strong opinions of whether/how it should be done. The question I had to ask after my experience, which the documentary couldn't answer for me, was: Why was I putting myself through this? Did I shave for a partner? For myself? Because of broader expectations?
The answer wasn't black and white. Up until that point I really enjoyed having very little hair around my vagina. I found it to be pleasant visually, and it was an added bonus if a partner enjoyed it as well.
But this is more than just a crazy story about pubic hair. It was a turning point in my life. The first few days following my procedure were quite difficult. It was hard to walk, and I live in an urban area where few people have cars. I couldn't walk to the pharmacy right up the street to get my prescription filled. So, I took a friend up on her mantra of, "Call me whenever you need anything." Making that call was hard. The independent side of me had to admit I couldn't do something, and I needed help in a very specific way. My friend had a car and ever so graciously picked me up, took me to the pharmacy, and made sure I had everything I needed to heal.
It was also a turning point when it came to my romantic relationships. Here I had a problem that involved my sexual health, yet when I called my boyfriend at the time and relayed what had happened his reaction was, "Oh, that sucks." He didn't come see me. He didn't help. There was a part of me that definitely felt, "Hey, buddy, you are in this thing with me." But he wasn't.
The same day my boyfriend proved not to care, my best guy friend showed up at my house with food and some DVDs. He was worried and wanted to make sure I was okay. I was on pain medication that made me fuzzy, and I don't remember many details from his visit. But the next day I remembered one thing quite clearly: I was done with selfish guys.
It was such a simple, but completely altering, way of looking at my relationships. If a guy couldn't bother to help me when I needed him–and I rarely admit when I need someone–he certainly wasn't going to be there for me in the long haul. I didn't want to be with that personality type anymore. I was done.
It's been one year since my balls surgery, and I haven't shaved my bikini area since because I keep having scalpel flashbacks. One day I will. Enough time has passed for me to understand that choosing to shave is independent of having or not having a partner. It is an action that I do for myself.
The most important lesson from this whole incident really didn't have anything to do with learning more about shaving (though I did find some recommended best practices if you're interested). The most important lesson from the incident had to do with relationships. Remember the selfish guy? I dropped him as soon as I got off of my pain meds and could think clearly enough to say "screw you." The biggest surprise of all? The best guy friend who brought me food and DVDsquo;s–I wised up and realized that he was the person that I should have been with the whole time. I'm very happy and he loves me just the way I am. And every now and then we get a good chuckle about how I used to have balls.
*****
This post was written by Girl Friday, a PYT shrouded in a cloud of mystery. She doesn't want us to know her real name.
Closing Off to Opening Up: One Girl's Journey
Originally published on SexReally.com on June 16, 2010.
Everybody's sick for something that they can find fascinating—everyone but you and even you aren't feeling well.
This lyric, penned by one of my greatest musical inspirations, hits the nail on the head in terms of my own experiences and the observed experiences of my friends in all range of confounding, agonizing relational duress. There are some that argue that in this day and age, in which many of us live much longer than past generations and have many more geographical, professional, and emotional transitions, monogamy is unnatural and will inevitably lead us to frustration and a lack of fulfillment. I cite this particular Amanda Palmer line because I think it speaks to this lack, the frustration, the scurried looks around for the next big or better thing—including partners. I've thought a lot about the challenges inherent in all variety of relationship styles—long-distance, short-distance, queer, straight, monogamous, nonmonogamous, coupledom, singledom, marriage, domestic partnership, you name it. There was a point at which polyamory, at least conceptually, did give me pause, for several reasons: 1. I was brought up to question everything (even monogamy!); 2. As a result, polyamory struck me as worthy of exploration and thought; 3. Many practical factors, having nothing to do with ideology, affect relationships and should be taken into consideration; 4. Simply put, hearts are complicated. Especially hearts I've loved.
In theory, I can get behind polyamory—the practice of concurrent plural romantic and sexual relationships—even though my gut, primal instinct is towards monogamy. Like many of my friends, I read The Ethical Slut and a host of other critical (and not so critical) dialogues around nonmonogamy. It makes sense that people (yes, men, women, and those who ascribe to neither label) crave sexual, emotional, or intellectual variety in partners. Let's face it—attraction is complex, confusing stuff. Often the people we want to sleep with are not the people we want to depend on. Often someone we are really attracted to is not someone with whom we could imagine spending any prolonged period of time, let alone sharing domestic or psychic space. All of this is hard to sort out.
Polyamory in practice, though, is a different story. Any good relationship, including a monogamous one, is going to have its share of challenges, but there are a certain interesting stressors brought about by different relationship structures such as marriage, living together, dating and living apart, or being single but sexual, to name a few.
The structure of a nonmonogamous committed relationship is, for many, the terrain of unknown variables. It can bring out the best and the worst in people. Pressures from society to couple monogamously, marry, and reproduce combined with a lack of societal, communal support to temper isolation can make it to difficult to navigate both monogamy and polyamory. There are a range of mitigating factors to be sorted out when you add extra people into an equation, and even those who think they can handle it all and are prepared for accompanying emotions may experience feelings and sideswiping they never knew they would. The truth is that one partner in an open relationship may have an easier time finding other partners due to charm, attractiveness, circumstance, or geography. Additionally, finding a partner does not mean that the physical or emotional experience of the new person will necessarily be what you had in mind. If you choose to introduce multiple partners, there is no way to control how one relational dynamic will affect the dynamics of your other relationship(s).
Some of these various issues come out in the book Kink, by Kathe Koja, which tells the stories of two partners who are each having an affair behind the other's back—with the same woman. Of course this scenario is not the same as honest, forthright nonmonogamy, but it does engender contemplation of themes of fidelity, attraction, and orientation—as well as who has power, security, or an accurate view of their own relationship. It also drives home the reality that whether monogamous or polyamorous, two people can have wholly different perspectives of relationships and events—even those they experience together.
I am lucky to have some really inspiring polyamorous friends who are thoughtful, critical, engaged, challenging people—and they do have their struggles in relationships, but they try to deal with them creatively and compassionately. This includes honoring "secondary" partners' lives and realities as much as those of their "primary" (I use the terms primary and secondary loosely because I consider them inherently problematic—they afford one partner a space of greater urgency, validity, and security, and to my way of thinking that cannot be a comfortable place for a secondary to be. Furthermore it seems hierarchy-driven, and hierarchy doesn't strike me as a useful way to approach love), not dating another person who makes their primary partner uncomfortable, and thinking about how to allocate time and effort to value and respect all the people they are involved with. Unfortunately I have also experienced polyamorous people who have poor communication skills, who choose to triangulate and breed competition and misunderstanding between partners, make unethical sexual decisions (as many "monogamous" people do), and centralize themselves as the most important narrators in the drama of life, with others merely serving as peripheral players. In a word, snore.
This isn't to say that monogamous relationships don't have their fair share of communication issues, emotional laziness, lack of passion, solipsism, and selfishness. But different relationship structures require different strategies to deal with problems. And a different lens for analysis.
Adding other ingredients into a soup gone wrong doesn't fix the soup—it just makes it a crazy soup with more ingredients. If you are struggling in your relationship, new partners may serve as a temporary distraction or relief, but won't fix your problems long-term. Then again, there are all kinds of soups and ways to enjoy them—and we as a culture could stand to think about and embrace that a little more.
Relationships—sexual or not, monogamous or not—require engagement, contemplation, selfishness as well as selflessness, nurturance, and challenge. While monogamy is what makes me feel happiest and healthiest with the right person (someone who feels that the same way and not as if it has been foisted upon them), I will also fight for a world that allows freedom to consider all options and choose mindfully what best fits each of us individually. I like coming to my monogamy as an elected, thought out, feeling-and-thinking-based process rather than a paradigm default. I want a world in which people are respected regardless of gender, age, relationship structure, or orientation—and are empowered to make decisions that are best for them without fear of castigation or reproach.
And a world with its own fair and healthy share of ongoing critique, natch.
*****
Katy Otto is a social justice activist, writer and musician who grew up in the DC area. She works in nonprofit management and development.
Sex On TV: So That's Why They Call It The Boob Tube
Greetings, Tumblees! I may not be as funny as Danny Rouhier or as sex savvy as Lena Chen, but there's one thing I'm pretty damn good at: watching television. And after many tedious hours of forcing myself (okay, "forcing myself") to watch episode after episode of sitcoms, dramas, reality television, and the occasional home shopping network program, I've discovered something rather groundbreaking. At any given moment, night or day, Law and Order is playing on some channel. 456 episodes over 20 years. Makes sense. But that's not the headlining news. What I did learn was that television shows love to make their characters get busy. You know, vertical jogging. Making whoopee. Schtupping. And they like doing it a lot. (Arguably, not so much on the Home Shopping Network, but I think we can all agree that there's something fishy going on with that Shake Weight thing…)
So what's my vested interest? Growing up, I learned everything I know about sex, love, and relationships from television. I think I entered the scene with 7th Heaven. Since Lucy started dating when she was 12, I figured it was about time to put on my Limited Too training bra and look for the side of boys that didn't have cooties. During my OC phase, seeing Marissa date Ryan, the bad boy, made me start peering over the proverbial train tracks, just to see what I was missing, ultimately realizing that I was much more interested in the Converse wearing, comic book reading, coffee-cart-proclaiming Seth. Then came college nights spent in Gossip Girl land, yearning to date a guy like Dan—perfectly scruffy, perfectly witty, and perfectly situated in a gorgeous loft in Brooklyn. I'm chronologically regressing somewhat as I now spend my Sunday evenings at Downton Abbey, but no one can exude aching lust in a longing glance like Lady Mary Crawley.
Whether it's awkward, creative, boring, or ridiculous, television just isn't the same without sex. After all, what's more entertaining than watching sex? Well, I guess having sex. But it's the humanity of it all: sex yields life. Literally. (Unless, of course, you're using effective birth control.) It can elicit pretty much any human emotion, whether it's knee-slapping laughter, heartwarming love, or need-to-leave-the-room discomfort. Sometimes, all in the same episode.
This is not a completely brand-spankin' new venture. You may recall the days of occasional "Sex on TV" postings on the now obsolete SexReally.com. Not ringing any bells? What about this? Yeah, more of that. Probably less snark (but no promises).
So that brings me here, blogging out all the good, bad and ugly news that's fit to print about boning on Bones, smashing on Smash, and plowing on Ice Road Truckers (Ew. I'm sorry, I had to). I will take one for the team, watch all the shows and ignore all of the distant rumblings of "those who can't do, teach." It's actually my job to watch sex on TV, kids. Beat that.
*****
Lauren Mann works in The National Campaign to Prevent Teen and Unplanned Pregnancy's Entertainment Media department. She's been blogging about sex, love and relationships among twenty-somethings since she first joined the Campaign as an intern in 2009. Check out her personal blog at whatjewtalkingbout.tumblr.com.
Contraception for Dudes: Blast to the Testes!
Originally published on SexReally.com on May 12th, 2010.
Wow. Could it be that scientists are finally on the brink of finding a safe, low-cost, long-acting, reversible method of birth control…for men?
For decades people have lamented—and debated—the lack of contraceptive options for men (no disrespect intended to the fabulous, STI-thwarting male condom). Some say it's unfair for the responsibility for contraception to fall squarely on women's shoulders, others say it makes sense since women often bear the brunt of the consequences of an unplanned pregnancy. And some, as I've written about, say that men are too incompetent to be trusted with the responsibility anyway.
Nevertheless, a male "pill" has been in the works for decades. It would seem that (safely and reversibly) altering men's hormones to affect their potency is no cakewalk. Still, scientists claim to be closer than ever to getting a male hormonal method on the market. But they may have more competition than they bargained for…
Apparently the dark horse method of male contraception is none other than the ultrasound. Yes, the ultrasound most often associated with viewing developing fetuses. Ironic, or fitting? Anyway, according to BBC News, "University of North Carolina experts believe a blast of ultrasound to the testes can safely stop sperm production for six months."
Though the description may sound a little scary to some (and I will resist the urge to go on a rant about double-standards for the moment), the prospect of a reliable, non-hormonal method for men certainly strikes me as something worth further investigation. We'll be staying tuned!
*****
Liz Sabatiuk is Social Media Manager for the National Campaign to Prevent Teen and Unplanned Pregnancy. When she's not blogging about birth control and relationships, she dances and teaches Argentine tango and spends a little too much time on Facebook.
Why Victoria's Secret Should Be Your Secret Too
Originally published on SexReally.com on December 4, 2009.
"I'm kinda in between boyfriends right now, so I don't need anything sexy." – Pam Beesly, while visiting Victoria's Secret
Victoria's Secret was prominently featured in a Season 3 episode of The Office entitled "Women's Appreciation." Fans of the show may remember Michael Scott's misguided attempt to show his appreciation for his female employees when he took them to a Victoria's Secret store and allowed each person to pick out one item as a present. Pam Beesly's character, played by the lovely Jenna Fisher, chose a robe because, being single, she saw no need to purchase a pair of lacey panties or a push-up bra.
Pam's quote continually ran through my head while viewing this season's Victoria's Secret Holiday Fashion Show. The event has become a staple of the holiday season, signaling the start of gift-giving and fulfilling men's and women's fantasies of tiny undergarments wrapped in pink paper under the Christmas tree. Let's face it: the fantasy is hot. The products are hot. So why have they been relegated to the back of closets, only to be broken out when there is an audience present?
As a wardrobe consultant and stylist I see a practical disconnect between the sex that is on the runway and what is found in the depths of women's boudoirs. Many people do own variations of the boustiers, slips, sheer nighties, and g-strings that are featured in glossy catalogues. The catch? These items are always, ALWAYS stuck in the furthest corners of the closet or underwear drawer.
Viewing this same situation time and time again has led me to conclude that women need to break those suckers out and make the fancy stuff a part of their everyday wardrobe. Our sexuality shouldn't be turned on and off, or stuffed to the back of the drawer. Who we are sexually is part of who we are as people and we should acknowledge it regardless of our relationship status.
On a very practical note, the pretty underwear isn't always comfortable. However, there are more options than ever on the market regarding style, shape, and material. Here are some realistic steps you can take to make sure your booty is both comfy and stylish during the day:
Can't think of wearing thongs? Clients routinely pick the wrong size. Go a size up or down for the correct fit. If you're entirely convinced a thong isn't for you, boy shorts can be a comfy and cute alternative…or if you're feeling daring, you can always eliminate panty lines by going without!
When is the last time you had your bra size measured? Statistics report that up to 80% are currently wearing the wrong size. Weight gain, weight loss, and hormone fluctuation can alter your size. Getting measured takes all of 5 minutes and can provide a world of comfort to women who feel as though they are being pinched, pushed, and otherwise fighting with their bra all day.
Take your pretty undergarments out of their drawers and hang them up in your closet. The saying "out of sight, out of mind" even applies to underwear; if you see them on a regular basis you are more likely to wear them and incorporate them into your life.
The notion of having "good undies" used for "fancy occasions" is about as useful and fun as only using your favorite dishes when guests come to visit. Sure, people will be thrilled by the presentation, but don't you want to delight yourself as well? Isn't your life occasion enough to celebrate?
You deserve these small pleasures – with or without a partner. This isn't about spending loads of money or buying into society's ideal of what is sexy. Rather, it is about conscious decision-making regarding your style and your sexuality. The choice to pick up black lace verses Granny Panties isn't going to change the world. But, it may change the framework of your day. It is a small choice that can be for you and you alone.
If I were to rewrite Pam's quote it would go something like this: "I'm kinda in between boyfriends right now, but I have this nightie in 4 different colors and wear them all the time. I want another one, but this time in satin."
*****
Kaarin Moore is the owner of Closet Caucus, a fashion consulting company located in Washington, DC. Her goal is to help clients express who they are through the medium of clothing. You can reach her at www.closetcaucus.com or on twitter (@closetcaucus).