Get back on that horse. You might want to take some time off before you explore romance again. That's fine, but don't let it go too far. You want to gain strength and get centered, not become so fearful of love (and getting hurt again) that you avoid it.
Breakups can hurt
a lot
, but don't hide in a tub of Häagen-Dazs for too long (though we do recommend
the java chip
for late night indulgences). These
do's and don'ts
can help you rebuild yourself after even the nastiest of breakups.
Sex on TV: The Other John Mayer Breakup You Didn't Hear About Last Week
I'm not going to pretend that I didn't think "Your Body is A Wonderland" should have won the Pulitzer Prize for poetry in 2002. But, in all fairness, I was 14 and also thought I should match my accessories to the color of the rubber bands on my braces and that O-Town was going to play at my wedding to Chad Michael Murray. It's safe to say my taste and standards had not matured to their current status during freshman year of high school. Regardless, looking back at my adoration for John Mayer now that I've seen his name associated with a notch on countless female celebrities' bedposts, I can't help but feel like I've been cheated on. THOSE WORDS WERE MEANT FOR ME.
John Mayer has racked up some serious frequent flyer points for all the wonderlands he's visited (hopefully safely) and, may I say, for someone who is looking like Jimmy Fallon impersonating Neil Young these days, he's still doing quite well for himself.
Let's pay a visit to the wonderlands of John Mayer's past:
Jennifer Love Hewitt: The original wonderland, since supposedly "Your Body Is a Wonderland" was about her. JLH humorously countered that her body was "more like a pawnshop."
Jessica Simpson: Timeline of how that relationship went down: She dyed her hair darker for him; he described her as sexual napalm; bewildered, she googled "napalm."
Minka Kelly: Before Derek Jeter and Tim Riggins, Lyla Garrity dated Mr. Mayer as well. I wonder what Buddy Garrity would have said about the whole situation.
Taylor Swift: You didn't know about John Mayer and Taylor Swift? Good news: Taylor Swift wrote a song about her ill-fated relationship with Mayer. She tends to do that sort of thing fairly often…
Jennifer Aniston: Apparently Mayer was really into Jennifer Aniston. Like REALLY into her. Enough to say he loved her and was devastated when they broke up, according to this article in Rolling Stone. Aw. But then you read everything else in the article and you're just kind of grossed out.
Katy Perry: No biggie if you didn't catch the media hysteria around their relationship. From what I could tell, there was way more hysteria around their breakup. Apparently they'd casually dated for a few months, but with that long coif Mayer had been sporting, paparazzi thought Katy was just hanging out with a rather masculine girlfriend.
You can't just toy with a 14-year-old's heart like that. Rocking out to his albums on my Discman is a distinct memory of my adolescence and I just don't think anyone will ever understand my teenage heart like John Mayer did. Add me to your list of breakups, John—it's over. I may blog, but I promise I won't write a song about it.
Photo thanks to Mad Madam Mim's Mimsy.
*****
Lauren Mann works in The National Campaign to Prevent Teen and Unplanned Pregnancy's Entertainment Media department. She's been blogging about sex, love and relationships among twenty-somethings since she first joined the Campaign as an intern in 2009. Check out her personal blog at whatjewtalkingbout.tumblr.com.
Rumor Has It: How to Deal When the Hot Gossip's About You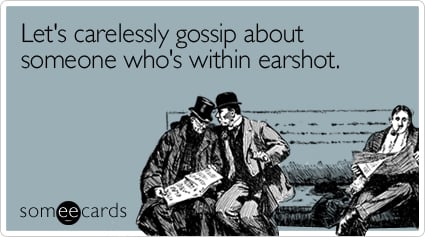 Originally published on SexReally.com on September 21, 2011.
Once upon a time, in college, I flew into a jealous rage and slashed the tires of a girl's car. Or so the rumors said. That's the thing about rumors – they tend to have a life of their own. But is it possible to control, or at least contain, a rumor?
Scenario 1 (My story)
The Rumor
I showed up uninvited to a beach vacation that included my ex-boyfriend, Mitch, his new girlfriend, Elizabeth, and 15 of their friends. I purposefully did this in order to taunt Elizabeth and ruin everyone's vacation. We went out one evening as a group and halfway through the night I disappeared. The next morning Elizabeth discovered that her tires were slashed. Even though we were all at the same hotel she was the only person whose car was disturbed. Thus, obviously she was the target of an act of jealousy. When I slipped away during the evening I must have come back to damage her car, thus forcing her to purchase new tires and spend half of her vacation at the nearest garage.
The Reality
One evening I ran into my friend, Kathy, and asked her how she was doing. She burst into tears. Her boyfriend of four years broke up with her the week before and she was a mess. She was trying to keep herself busy and said yes when a group of friends invited her on a last minute trip to the beach. She asked if I would like to come along so we could spend some time together while soaking up the rays.
The next day, Kathy and I arrived at the beach and went to check into the hotel where the group was staying. I walked into the lobby and felt my stomach drop to my knees. There was my ex and his new girlfriend standing at the counter. I didn't know that Kathy and Mitch knew each other and shared many of the same friends. Talk about awkward.
That evening we went out for drinks as a group. Even though the situation was highly uncomfortable, there were enough people there that I could keep my distance from Mitch and Elizabeth. We went club hopping and, as the evening progressed, Kathy got more and more drunk. At 1AM I found her sitting on the bathroom floor of a club sobbing. So, I helped her up, took her outside, and grabbed a cab. When we got back to the hotel, I put her into bed and we both went to sleep.
The next day I found out that Elizabeth's tires had been slashed and that I was deemed the culprit. I didn't even know Mitch and Elizabeth were going to be there! I didn't know what type of car Elizabeth owned! Did people think I carried knives with me to the beach? There were so many holes in the logic – how could anyone think I would do such a thing? But ultimately it didn't matter. The rumor was way too juicy. I was the crazy ex who randomly showed up on a couple's vacation and slashed the new girl's tires.
Situation 2 (Anne's story)
The Rumor
On the first day of Anne's new job, she hit it off with her colleague, Chad. It was obvious that they got along fabulously. They started hanging out together and going out for coffee and lunch. One day Anne was seen coming back from Chad's car carrying a gym bag. They were obviously sleeping together.
The Reality
Anne did hit it off with Chad on her first day of work. They shared a similar sense of humor and got along like gangbusters. But, what people didn't realize was that Chad was gay. He decided not to come out in his professional life because they worked for an ultra-conservative company. When the rumors first started circulating that Anne and Chad were together, they thought it was hilarious – how could anyone not understand what was going on?
The situation with the gym bag is what took things from being amusing to annoying. Anne did go to Chad's car – to pick up a book that was in his gym bag. When people looked out the office window, they completely misinterpreted the situation, making for even more office gossip.
Anne ended up quitting her job nine months later to go to another company. The rumor mill reported she was leaving was because she was pregnant. Even though she told people that it wasn't true, her office went as far as to take up a collection for her and the new baby. A year later, one of Anne's former colleagues came to her house and asked about the baby. When Anne told her that there was no baby, her former colleague interpreted it as meaning she had terminated the pregnancy.
What's a Girl to Do?
Rumors can be incredibly painful, especially when they're about you. But is there anything we can do to protect ourselves when a rumor hits?
"Rumors can be a tricky thing to deal with," says psychiatrist Dr. Soroya Bacchus. "There really is only one way to get through or around them without exacerbating the problem: brush it off and go with the flow!"
Dr. Bacchus explains that rumors need fuel to spread. "Our bodies need food, cars need gasoline, and rumors need validation. If you are the brunt of a nasty rumor, getting upset and angry will only validate the aggressor and make it more pleasurable for those not on the receiving end to keep going."
Dr. Bacchus offers these tips on how to deal with a rumor:
Dismiss it as irrelevant. It won't be fun if people can't get a reaction out of you.
Don't get upset or angry. It only makes things worse.
Remind yourself that most people have a short attention span. People will soon move on to the next rumor.
Understand that social media can be a vicious tool for spreading gossip. Remove yourself from the situation by taking a break from it.
Try "thought stopping." When a negative thought pops up, stop it and replace it with something positive.
Finally, I think being the subject of a nasty rumor teaches us empathy. We can decide not to pass on information when it comes our way. We can stick up for other people. We can remember what it was like to be at the center of negative attention and decide to take gossip with a grain of salt. Because the perception and the reality of a situation can be two very different things.
Have you ever been the subject of a rumor? What was it? How did you handle it?
*****
Kaarin Moore is the owner of Closet Caucus, a fashion consulting company located in Washington, DC. Her goal is to help clients express who they are through the medium of clothing. You can reach her at www.closetcaucus.com or on twitter (@closetcaucus).
Guests on Dr. Phil remind us why we love birth control so much
A sorority girl, a baby, a baby daddy…and his new girlfriend? This is why we are so very, very into birth control.
According to the folks from Dr. Phil:
Meleah broke up with her college boyfriend, Greg, because he was snooping through her phone, her Facebook, and trying to gather information on her from her sorority sisters. Two weeks later, Meleah discovered she was pregnant. Now, the baby is here, Greg is unsure he's the father, plus, Greg has a new girlfriend. Watch this "Dr. Phil" and see how he sorts through the complicated emotions of Meleah, Meleah's mother, Greg and his new girlfriend.
Sounds really, really complicated. We're definitely interested in seeing if they can work it all out…and a little bird told us Dr. Phil may be mentioning Bedsider. Which is awesome, since we're all about helping people avoid situations like this one. If you want to watch, the episode airs Thursday (tomorrow!), September 29th. Not sure when or what channel? Never fear, you can find out here.
The Ex Files: Are There New Rules of Engagement?
Originally published on March 14, 2011 on SexReally.com.
"The only time you should contact your ex is if you get engaged or you get a STD." – Paul
My friend Jackie found out about her ex's engagement in a very theatrical way: she read about it in The New York Times. She happened to be browsing online and stumbled upon Brian's picture with his soon-to-be wife.
When Jackie relayed this information to me I was surprised. She'd ended her relationship with Brian only a year before and since then he'd managed to a) recover from their breakup; b) start dating someone else; c) become engaged to that someone; and d) marry her. My, what a difference a year makes. But, sometimes I guess that's how love works. One year you're ending a relationship and the next year you're saying, "I do".
Statistics show that women are waiting till later in life to marry. In the United States in the 1960s, the average age a woman got married was 20. As of 2007, that age was 26. With all that extra time, it makes sense that we'd be experiencing more relationships in our 20s. Getting married later means we have more time to date a variety of people and, hopefully, learn about love.
Yet more exes also means new questions about behavior and etiquette. For example, should we expect a phone call, email, or conversation over coffee when an ex gets engaged? Do they owe us one? Or, if you have an engagement ring on your finger, is there a need to call up the guy who you thought might be "the one" until things went sour?
I came up with four working theories on why an ex might be in touch about upcoming nuptials:
1. Out of courtesy. The advent of social media has changed the playing field in terms of how news gets around. Now all it takes is a change in relationship status on Facebook – one click of a button – and the whole world knows. Your ex wants to make sure you hear it from the source, rather than in such an impersonal way.
2. To rub it in. This scenario is likely to play out if the relationship didn't end well. It's the I'm-doing-so-freakin'-well-without-you call.
3. To see how you react to the news. Your reaction could be an indicator of how much the relationship meant to you. Or, it could be a way to gauge whether you still have any romantic feelings.
4. S/he is crazy happy and just couldn't resist. Your ex is calling everyone s/he can think of because the joy cannot be contained.
In my own experience, I've received two phone calls about engagement. Jackie's story made me think back to those conversations. Was I glad they told me? What exactly were my exes hoping to accomplish by letting me know? Is it better that I found out from the source rather than through the grapevine?
I had many questions about exes and engagement etiquette, so I decided to do something crazy. I called up one of my exes to ask why he'd called me about his engagement. Our conversation went like this:
Me: Thank you for letting me call to ask you questions about our past! I know it must be weird to know that it will be in a column for Sex Really.
Paul: (Laughing) That's okay!
Me: When you got engaged you called to tell me your news. Why did you decide to call?
Paul: Part of it was because I thought it was something you were supposed to do. I was contacting people that I really liked and were friends. It would feel weird to tell everyone else and not let you know.
Me: Did you call any of your other exes? If so, what were the reactions you received?
Paul: Yes, I called two other people. Those two were married and I thought I would get a reaction like, "that's great to hear." But with you I wasn't sure what kind of reaction I was going to get.
Me: How would you describe my reaction?
Paul: Upbeat, positive, excited.
Me: What did you think of that reaction?
Paul: I wasn't sure if you were putting on a brave face or not. Not that it would ultimately matter anyway. When I hung up with you I thought to myself, "I hope that is how she really feels, because that would be great."
Me: I have some theories on why people call their exes to tell them about an upcoming engagement. Can you respond to each one?
Paul: Sure.
Me: First – people call to let their exes know out of courtesy.
Paul: Yes, that was part of it. I really thought it was a thing you were supposed to do. Like, a social norm that had popped up around weddings. I'm not sure where I picked up that social clue. Maybe it was movies, or TV, or just having other friends do it.
Me: Next theory – people call to rub it in.
Paul: (Laughing) Well, for us that wasn't part of the phone call. But, one of my friends, Tom, did call his ex to tell her that he was getting married. There was a bragging aspect of it. In his mind I think he got an emotional high from showing his ex how great his life turned out.
Me: Next theory – people do it to see how their ex would react to the news. Meaning, to see if they get upset.
Paul: For us I think it was more about gauging feelings. It's about curiosity and how that person feels about you. But the reaction that you gave was one that I hoped for. With Tom he was hoping that it wouldn't go over well. He was hoping that she would feel like she blew it with him.
Me: Final theory – that people do it because they are so happy that they can't contain themselves.
Paul: I could really see that as being a reason why an ex would reach out, especially if things ended on good terms. When it comes down to it, I think you should only contact an ex if you get engaged or get an STD.
I'm glad Paul called and told me about his engagement. But it would have been okay if he hadn't, too. It did make me laugh a little when he said that he hoped I wasn't putting on a brave face. I expected him to get involved and get married at some point and, by the time his engagement happened, everything between us was water under the bridge.
Does etiquette revolve around timing, then? Paul and I had been out of a relationship for two years when he got engaged. Maybe that one-year mark that Jackie experienced makes the difference. Perhaps the new rule of etiquette should be that if you get out of a relationship and engaged to someone else within the same year, a phone call is in order?
The curious thing about relationships and breakups is going from knowing every nuance about someone's day to knowing nothing at all. Maybe contacting an ex about your engagement is a way of harkening back, or paying your respects, to an era when your lives were tied together.
As for me, I don't know if I would do it. My past is in my past for a reason. It's not that those other relationships didn't have their time and place, but when you are looking toward the future with a partner, all the other stuff tends to go fuzzy and the road ahead is the only one that matters. The visibility of exes on that road? That probably depends.
What do you think?
*****
Kaarin Moore is the owner of Closet Caucus, a fashion consulting company located in Washington, DC. Her goal is to help clients express who they are through the medium of clothing. You can reach her at www.closetcaucus.com or on twitter (@closetcaucus).
Public Parting: How Social Media has Changed Breakups
Originally published on June 22, 2010 on SexReally.com.
Once upon a time…say, in the late 90's…one of the biggest post-breakup fears was running into your ex in person. If everything went according to plan, you could strategize the perfect "oh this old thing?" outfit that made him drool and suffer. The "Take Me Out to the Ballgame" episode of Sex and the City, which first aired in 1999, had Carrie thinking about her run-in clothing and her perfect post-breakup accessory—a New York Yankee.
My, how times have changed. Not only are people thinking about what to wear when they see their ex, they are rethinking their entire online persona. The advent of social media—and, by extension, the public outing of private information—has made the navigation of breakups more complex.
For example, you just broke up with your significant other. Do you:
a) Immediately change your Facebook profile picture to one of you looking saucy.
b) Break into your ex's Twitter page (because you have the password) and announce his deviant behavior to the whole world.
c) Start to obsessively track where he is on Foursquare. That way you can "accidentally" run into him when you're out with your girlfriends, looking fabulous.
d) All of the above.
Of course these options don't represent the entire spectrum of how to respond after a breakup. They are examples of new options that can significantly affect what happens after a relationship falls apart. Regardless of how things go down, you (or your ex) can put a spin on what happened and tell hundreds of friends the entire scenario with the simple click of a button. Revenge, it seems, is a dish best served online.
And sometimes it is freakin' hilarious. Consider what I read on Twitter this past week (names withheld to protect the innocent. Or guilty, depending on what happened):
"I'm officially the world's biggest asshole."

"Yeah, shit went down. I lied to her continuously, ignored her all the time, treated her like shit….what can I say?"

"Perhaps going out drinking and getting toked every night of the week was a bad idea."
The thing that makes it hilarious is that the situation is completely transparent. It takes all of 10 seconds to understand the backstory—someone else wrote the tweets and they were ticked. And that someone was an ex.
In a matter of minutes the tweets were deleted and one of the accounts had posted this:
"Just got hacked by the ex on here. Wonderful. For those of you that saw, I'm sorry."
Even if you aren't a person who has 50,000 followers on Twitter, chances are you are connected in a public way to your immediate social circle. You don't have to be a Britney, Miley, or Rihanna to know what it feels like to have your private life exposed. Social media has leveled the playing field and forced us into doing our own PR damage control.
My friend Carolyn experienced a taste of this when she broke up with her boyfriend of six years. It was a reasonably amicable separation—they didn't leave on bad terms or fight it out until the bloody end. They just had an adult conversation and decided to go their separate ways. Their conversation ended at 11:30pm and by the time she woke up the next morning he had already changed his relationship status on Facebook.
"I thought it was a bit callous to tell the world online before I'd had a chance to tell my friends," Carolyn said.
She also admitted that she went on to his Facebook page (since she had the password) and made the relationship status private so a "…big broken heart wouldn't be in everyone's newsfeed." It's also important to note that's all she did. Once the relationship status was changed she left his Facebook page alone.
I talked to another woman, Annie, who told me how she changed her profile pictures once her boyfriend of two years dumped her.
"Put simply…it's a way of putting on a brave face and showing how little you care. Even if in person you want to dissolve into tears every time you see him, your profile picture is still smiling away," Annie said.
While there's no doubt that social media is changing the way we deal with breakups, how those changes play out can vary greatly from person to person. There is a huge difference between taking back your power and getting dreadfully close to becoming the mayor of Crazyville. Putting up a new profile picture is a simple way of taking control of post-breakup identity. Spewing facts of how he cheated to everyone on Twitter is something else entirely.
However you deal with a broken heart, remember that what you put online can never be taken back. You might rightfully reveal that he is a complete scumbag, but you can cross the line to coming off as desperate and manipulative. Which is never a great way to portray yourself, even if you are temporarily feeling that way after a separation.
So take a deep breath. Talk to people who love you and can empathize with how you are feeling. Take yourself out for a pedicure, join a new club, finally start painting again, and reconnect with good friends from your past. But think twice about going public with your heartache. And, for goodness sake, change your passwords.
*****
Kaarin Moore is the owner of Closet Caucus, a fashion consulting company located in Washington, DC. Her goal is to help clients express who they are through the medium of clothing. You can reach her at www.closetcaucus.com or on twitter (@closetcaucus).
Seen On Twitter: Eight Good Reasons to "Break Up With" Someone
Originally published on SexReally.com on September 3, 2009.
If you've explored SexReally, you may have noticed our shifting "_______ On Twitter" feed (if not, scroll down now), which displays real-time tweets about topics we want to hear about. This week and last, we've been talking break ups on the site, and we've seen some interesting tweets on the subject… Here are SexReally's top 8 twittered reasons to "break up with" someone:
1. Because at least one of you didn't even think you were dating: @verdhandi needs help. Oh god. How do I get myself into these messes? How do you break up with someone you didnt even think you were dating?
2. Because she's pregnant (unplanned), and you're a woman: @jaimefilson I found out my girlfriend is pregnant and then decided to break up with her. Why? We're lesbians.
3. Because she bought a "Boyfriend Remote" app: @bradleyjp There's no way that says 199.99 regular price, 19.99 sale price. I'd break up with a girl who bought this app. http://post.ly/3jTh
4. Because she wants you to: @MagicLoveMusic i kinda wanna have him break up with me so i have been ignoring his texts and stull is that wrong or IDK WHAT TO DO HELP ME :/
Or for that matter…
Because he wants you to: @joannegozo He says: I'm not going to change. He means: I don't have the balls to break up with u, so I'm gonna force u to dump me
As @juiceegal says If you want to break up with me, break up with me. Don't act like a complete jerk until i do it for you. Grow up, bad boyfriends and girlfriends!
5. Because you're losing your balls: @stagestallion @Whitala You need to break up with your lover, Tiffany. You're losing your balls.
6. Because he's threatening to "bang all your friends" if you do: @DavielDamani If your girl decides she wants break up with you, tell her that you are gonna bang all her friends….she won't leave you then! Works every time!
7. Because he's tweeting about breaking up with you: @DarthEdward Is going to break up with her. I just cant do this, I dont feel anything at all for her.  @Xevolution2 @EmmyTadros uh i guess shes lucky?? but idk…i kinda wanna break up with her =/ nd im listening to Dont Let Me Down! :D
8. Because some guy who calls your boyfriend a douchebag on twitter wants you to: @cmoneyzz I'm falling for you harder :/ break up with your douchebag boyfriend!  JUST KIDDING.

Your turn…seen any interesting tweets about break ups lately, on our feed or elsewhere?
*****
Liz Sabatiuk is Social Media Manager for the National Campaign to Prevent Teen and Unplanned Pregnancy. When she's not blogging about birth control and relationships, she dances and teaches Argentine tango and spends a little too much time on Facebook.