They can be eager, passionate, funny, wild, less rigid (except where it counts), and up for anything (exactly where it counts). And it's kind of fun being the one with more worldly experience to share. But if your guy is too young you can run into maturity issues and other challenges.
Is the Grass Actually Greener in Kansas City?
This summer, I decided to put my love of traveling and meeting new people to the test and go where I have never gone before… the Midwest! My first destination was Kansas City (which I quickly learned is partly in Missouri, not just Kansas State).
My assignment? To find out about the Kansas City experience when it comes to dating, relationships, and sex. After hitting up all the KC hotspots, including Westport (where I interviewed a couple on their first date about their birth control habits) and The Plaza (where I was propositioned by a cute guy who was very direct about his "intentions"), I headed to the The Power & Light District, where I sat down with two people the locals go to with their dating and relationship questions and got to know them a little bit.
Pamela Spencer and Damon Smith are dating columnists and bloggers for Ink Magazine, a specialty publication from The Kansas City Star. During our interview, I brought up Forbes Magazine's "America's Best Cities For Singles" list, which ranks the 40 largest metropolitan cities in America on: coolness, cost of living alone, culture, job growth, online dating participation, nightlife, and the ratio of singles to the entire population of the area.
Kansas City ranked #37 in 2009, the last time they compiled this list, and Pamela told me about this low rating before we even met in person. And though no one I spoke to in KC knew about the Forbes list, no one was surprised. Almost everyone I talked to was either married, divorced, or engaged, which (I imagine) sucks for the single folks in town. Then again, Pamela met her husband in the KC dating scene, while I live in the city that ranked #1 (NYC) and am still waiting for someone to "put a ring on it." So maybe living in a great place for singles isn't all it's cracked up to be.
Listen to what Pamela and Damon have to say about dating in KC for yourself, then tell me what you think in the comments: would you ever consider moving to another city to improve your dating odds?
*****
Veralyn Williams is a Multimedia Freelance Journalist currently working in New York City. She has spent 4 years at WNYC Radio working with various departments including: Radio Rookies, Culture, News, and Freakonomincs. Also freelancing for Black Enterprise, BronxNet Television,Bedsider, and The Museum for African Art. Her independent work is featured on her website VeralynMedia.com. Through all of her endeavors she aims to give a voice to perspectives that are often forgotten in the media.
"I actually had a friend who, I think this kind of just a little bit of a Midwest kinda thing… his father met his wife 'cause he was driving and he saw her and he thought she was really cute, so he pulled in front of her and then put on the brakes and, like, stopped her car and then asked her out on a date."

"Woooowww. That would not go down in New York!"
Pulling someone over to ask them on a date: cute or creepy?
Trending: 5 #ThingsNotToSayOnTheFirstDate
The conversation's been raging all day and there are many, many tweets. But we couldn't help noticing that the biggest first date no-nos according to Twitter users seem to center on 5 themes:
1) Things that sound like too much, too fast.
Examples:
@jcmuffins #ThingsNotToSayOnTheFirstDate "So when do you wanna meet my parents?"
@amaandapleasee #ThingsNotToSayOnTheFirstDate what do you want to name our kids? #takeiteasy
@teenishtalk #ThingsNotToSayOnTheFirstDate Can I put that we're in a relationship on Facebook? (We say: at least they asked?)
2) Anything about your ex (strong consensus on this one).
Examples:
@ZackySundae Im still in love with my ex but he hates me… Wtf?! -_-#ThingsNotToSayOnTheFirstDate
@Mr_iKeepitreal #ThingsNotToSayOnTheFirstDate: My ex & I use to come here a lot (We say: take this a step further and maybe DON'T take your date to the place where you and your ex made all those special memories.)
3) Things that betray your total lack of interest.
Examples:
@2fhaymus #ThingsNotToSayOnTheFirstDate what time is it?
@DeepPosts #ThingsNotToSayOnTheFirstDate "What's your name again?"
@PocketFranklins Was I drunk when we met?#ThingsNotToSayOnTheFirstDate
4) Things that make it sound like you're only using your date for sex.
Examples:
@Obey_Lashan #ThingsNotToSayOnTheFirstDate So can we bang now? (We say: this one may not be totally out of the question if everyone has a good enough time.)
@x_xCassandrax_x #ThingsNotToSayOnTheFirstDate "If I pay for dinner, I expect that you'll be having a popsicle for dessert." (We say: um nothing against popsicles, but YIKES.)
@_SheMoansKhailz #ThingsNotToSayOnTheFirstDate " Nice Legs , What Time Do They Open ? " (We say: is it wrong that this made us snicker?)
5) Things your date will probably never want to know about you (ever).
Examples:
@Z3NCOWBOY #ThingsNotToSayOnTheFirstDate Sorry about the beeping noise, but this thing strapped to my leg goes off when I leave my house. :/
@Nien_Nunb #ThingsNotToSayOnTheFirstDate oh, don't mind that. It's always erect. (We say: depends on the date, amiright?)
@IamSassyFrass #ThingsNotToSayOnTheFirstDate I've discussed all my emotional issues with Siri, but she doesn't understand.
Ah, Twitter, how we love thee. Don't worry, though—we'd never say that on a first date.
Sex On TV: Girls Gets It
HBO's new show Girls: where even to begin. After watching the pilot and then Sunday night's second episode with my roommate, my biggest regret is not having taken notes. The blog fodder was literally bombarding me, kamikaze style, and I don't even know how to tackle this bad boy. But, taking a hint from the legendary Julie Andrews, I guess I'll start at the very beginning.
Girls, birthed by writer/director Lena Dunham and reared by Judd Apatow, seeks to fill the television void of shows with realistic depictions of twenty-somethings. You know, that awkward time when you realize the career goal you've dreamed of since your childhood and focused your college education on is actually the last thing in life you should be doing, you're not really making any money but working your ass off, you take turns with your friends to coordinate quarter-life crises and breakdowns, and your skin decides to retaliate for four years of mistreatment by reverting back to middle school acne. No resentment in this blogger's writing voice at all…
Needless to say, I was pretty pumped at the idea of the show and couldn't wait to put my judgey-pants on and watch the pilot. As a child of the Sex and the City/Gossip Girl/The Hills era, I cannot begin to express the disappointment I experienced when I realized my twenties were more likely going to resemble an episode of PBS News Hour than SATC. Therefore, watching the show, there were a few things I was refreshed by: for starters, Lena Dunham's character Hannah. She's awkward, unsure of herself professionally, strapped for cash, and shaped like a real woman. Not Hollywood's version of a "real woman," a.k.a. a perfectly coiffed size 4 with curves in all the right places. Instead, she's frequently unkempt and sporting some curves in some of the wrong places, too. Love it. Hannah is stranded in the no-man's-land of casually hooking up with a guy she met at a party—and even though he's rude to her at times, they only hang out if they're having sex, and her friends don't like him, Hannah keeps going back to him. Degrading and embarrassing? Yup. But a realistic relationship status for many twenty-somethings? Unfortunately, yes again.
Clearly this show was going to be fair game for a blog post—I decided within the first 10 minutes—so you could only imagine the decibel level of my squeal when the girls started talking unplanned pregnancy, STDs, condoms, etc. To quote one of my favorite SNL characters, this show has EVERYTHING.  An attempt to have a frank discussion about using condoms that actually sounds as awkward as they usually go down? Check. A scene inside a women's clinic that looks more like a spa than a shameful version of a Jiffy Lube waiting room? Check. On-screen STD test? Check. They even have a 23-year-old virgin who hasn't dedicated her life to religion! So she may use words like "totes," cite Rent as her authoritative source on HIV/AIDS, and get her love advice from a book called Hey Ladies Bible, but her rationale behind waiting is simply that it hasn't happened yet.
Girls has come under fire for a number of reasons, and I'm not going to deny that it has its flaws.  However, what it does well, it does very well. Sex, dating, hooking up, and birth control can all be incredibly awkward and uncomfortable, but they're all part, possibly a prevalent part, of a twenty-something's life. Accurately portraying how all that good stuff REALLY goes down is a point in my book. But what really stole my heart? Watching Hannah struggle to tuck her shirt into her hiked up skirt, wearing ugly gray tights. That may or may not have happened in my own bedroom this morning…
Image from HBO.
*****
Lauren Mann works in The National Campaign to Prevent Teen and Unplanned Pregnancy's Entertainment Media department. She's been blogging about sex, love and relationships among twenty-somethings since she first joined the Campaign as an intern in 2009. Check out her personal blog at whatjewtalkingbout.tumblr.com.
A mating date between two pandas! Sounds like it didn't quite pan out as the zookeepers hoped, but we say you can't rush these things. (Courtesy of New York Daily News)
Is It Okay to Keep Secrets From Your Partner?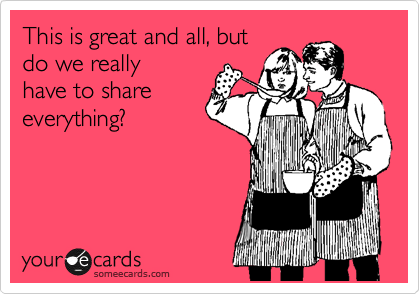 Originally published on SexReally.com on August 9, 2011
"The secret to marriage is to lie," a colleague once told me. "I hide how much money I spend on jewelry and my husband pretends not to notice."
This advice was given to me, unsolicited, by a woman who has been happily married for over thirty years. It made me laugh, but it also made me think about secrets in relationships. Is it really best to keep some things to yourself?
I've collected and weighed in on 4 scenarios where people stumbled upon their significant other's secret or kept a secret from their significant other. Are any of them doing the right thing by keeping a secret?
1. Secrets about Money
The Scenario: Carrie had been dating Kirk for over a month when she found out he was still living with his parents. "We kept going back to my place after dates," she said, "and one night I asked if we could go to his place and he said no. He ended up telling me he was deep in debt and lived in his childhood home with his parents. Did I mention he is 40?"
Carrie dated Kirk for almost two years after that. She didn't necessarily care that he had financial problems, but it did become an issue when, for example, Kirk had a boot put on his car. He couldn't pay to have it removed and the car was towed and eventually put up for auction. Lack of transportation meant logistical problems with seeing each other. For the length of their relationship Carrie knew Kirk had financial troubles, yet he continually tried to hide them from her.
"I think it was just about pride," she said. "I think it was hard for him to be that age and to not have money." She then relayed some advice her mother gave her when she started dating: "Romance without finance is a nuisance."
To Tell, Or Not To Tell: These days most people have debt and, in this economy, many are facing some type of financial difficulty. I think coming clean depends on the length and depth of the relationship. On a first date you may not want to mention that Mom and Dad are paying rent. But, if the relationship moves forward your partner is going to find out, so it is best to come clean.
If the relationship is moving even deeper into talks of, "Let's go shopping for engagement rings," there definitely needs to be a talk about finances. Do some soul searching about your financial expectations:
Does your partner need to be debt-free?
Do you plan to help your significant other pay off debt?
Are you prepared to go into a long-term relationship with someone whose credit score is dismal?
If you are the one who is having a money flow problem, it's best to think about your options before you get into a sticky situation. If you are dating it could mean talking with your significant other about what types of activities you want to do together (like packing a picnic versus going to a restaurant for a four-course meal). Basically, the deeper the commitment, the more open you and your partner should be about finances.
2. Secrets about Drug Use
The Scenario: Katie didn't know her boyfriend, Brian, smoked marijuana until she walked in on him smoking up. Opinions about personal drug use vary, but for Katie involvement with someone who smoked pot was out of the question. And Brian knew it.
Brian didn't flat out lie to Katie. Throughout their months of dating she never point blank asked him if he ever used drugs. His secret was omitting that particular part of his life.
"Was it lying? Yes, I do think it was a form of lying. It's dishonesty," Katie said. After Katie stumbled upon Brian's secret he admitted to smoking up multiple times per week.
To Tell, or Not to Tell: Brian hid something that he engaged in on a regular basis because he knew Katie wouldn't approve. Katie fell hard for him, but once she found out about his drug use she felt like she loved only a version of him that he wanted to reveal.
If you are like Katie and find that someone you love has been hiding their drug/alcohol use, there are numerous places where you can get help. Al-anon and Alateen are places where you can find support.
If you are keeping your drug / alcohol consumption a secret, it may be a sign of addiction. Let me be clear – it doesn't make you a bad person. Many people struggle with substance abuse, and there are places where you can get help. Check out these signs of drug abuse and addiction and if they seem familiar, look into getting help (a couple good starting places are Narc-Anon and Alcoholics Anonymous).
3. Secrets about Past Sexual Activity

The Scenario: At the end of Delaine Moore's marriage she had an affair. Now divorced, she dates regularly but doesn't feel a need to tell partners how her marriage ended. Even though Delaine keeps mum about her secret past, she is opening up about her dating life post-divorce in her new book, The Secret Life of a Newly Single Mom: A One-Year Memoir of Finding Sex & Satisfaction After Divorce.
To Tell, or Not to Tell: Your current partner doesn't need to know every detail of your sexual past. Delaine made a mistake, owned up to it, and is trying to move on with her life.
However, if your sexual past is going to potentially affect the health of your current partner, you must open up. If you have an STI or are HIV+, it's your ethical responsibility to inform potential partners about your status. In fact, withholding your HIV status is criminal in some states (find out the laws in your area.) Your partner(s) need(s) to be able to make an informed decision about their level of sexual involvement.
Not sure of your status? Then it's time to get tested. Unsure of your partner's status? It's time to have a conversation about it. It may be a bit uncomfortable, but your personal health is first and foremost. (Check out the article, "So, Uh, Got any STDs I Should Know About?" for helpful hints on how to start that talk.)
4. Secrets about Current Sexual Activity

The Scenario: From the outside Megan appears to be a normal wife and mother. The secret she keeps from her husband is that she has sex with strangers when she goes out of town on business.
"I can't believe I have done this…I'm ashamed of how I have acted and don't know what to do about it," she said. "What this says to me is that I shouldn't be in a relationship with my husband. I'm not getting what I need out of it—attention, appreciation, love, and sex."
To Tell, Or Not to Tell: Megan is very aware that what she is doing is wrong. Her secret could affect the sexual health of her husband and most certainly will influence the emotional health of her family. Right now Megan is living a dual life that isn't fair to anyone involved. Her secret needs to come to the surface so she can deal with the reasons behind her cheating.
In Sum…
Everyone has information that they would rather keep hidden. Many times holding your cards close can be a good idea. You are allowed to have your own life and to make mistakes along the way, after all, and sometimes your partner really doesn't need to know everything. But, when your secret could influence your partner's life—especially his/her emotional and physical health—you need to fess up. There might be anger and hurt. And there is a possibility that your significant other may leave you. Sometimes, though, the weight of keeping a secret is worse then the secret itself.
When Shakespeare wrote in Hamlet, "This above all: to thine own self be true," he probably didn't realize he was giving fantastic dating advice. But, he was on to something. You deserve to be fully yourself in a trusting relationship. If you are keeping secrets, think about your true reasons for not telling your partner. Is what you are holding back going to potentially endanger him/her? Then it's either time to come clean or end the relationship.
If you are the one who was lied to, try to think about the reasoning behind the secret. Was your partner trying to protect you, or did he/she hold things back for their own self-interest? Was it truly an oversight of omitting information? If so, maybe it is time to exercise forgiveness. If the secret is putting you in harm's way, though, it's time to let go.
There are no hard and fast rules about secrets because relationships have so many gray areas. However, two basic elements of love are trust and respect. Do you trust your partner? Do you feel he/she is respectful when it comes to your heart and your body? Only you can answer those questions.
*****
Kaarin Moore is the owner of Closet Caucus, a fashion consulting company located in Washington, DC. Her goal is to help clients express who they are through the medium of clothing. You can reach her at www.closetcaucus.com or on twitter (@closetcaucus).
I didn't know my own strength…
Today is my first Valentine's Day without any guy in my life—because, for the first time in my adult life, I am truly single. This may come as a shock to many people who know me and know that I haven't been in a relationship in years, but truth be told there was always someone in the the sidelines. There was the guy I fell in love with who couldn't commit. The guy who fell in love with me, but who (for a lot of reasons) I could only stand for a summer. And of course "The Ex," who always found a way to wiggle his way back into my life and my bed. But this year I have systematically cut all that extra baggage out of my life. (And I'm talking "changed my number" cut.)
So this is the part where I'm supposed to say how empowering this is and how much I'm finally getting to know the "real" me. And yes—those things are true. But I also get lonely. And as I mourn the passing of the voice of my generation, Whitney Houston, my playlist is NOT helping!
Sunday night, after watching the Grammys with some girlfriends, I came home and listened to Whitney's "Why Does It Hurt So Bad":
Why does it hurt so bad / Why do I feel so sad / Thought I was over you / But I keep crying / When I don't love you
With the emotional mess I was over losing one of my icons and this V-Day looming over me, it was so tempting to justify "making a call." But, in the words of Whitney, I didn't know my own strength. It took admitting I was actually sad about not having anyone to cuddle with that night for me to understand that strength.
Don't know where I first heard the saying "I'm alone, but I'm not lonely"—it was probably on an episode of Living Single back in the day—but it's always stuck with me. So every time I was alone and got lonely I would make a call… (Or, more likely, send a text.) Nothing explicit. Just a "Hey…" that would inevitably set into motion a duologue that would lead me down an oh-too-familiar road to nowhere.
This time I didn't call anyone. Instead, I just admitted to myself that I was lonely. And I reflected on all the reasons why: mourning Whitney, very cold night, watching LL Cool J host the Grammys… I cried, slept, and woke up grateful I was alone and didn't have to start all over in the "unpacking my baggage" department.
And because I'm finally really rid of the men from my past, hopefully there will be room for a new man in my future. Until then I'll be dating, armed with some lessons I've picked up from interviewing folks on dating, relationships, and sex. Take a look at what I've learned and share your own advice.
*****
Veralyn Williams is a Multimedia Freelance Journalist currently working in New York City. She has spent 4 years at WNYC Radio working with various departments including: Radio Rookies, Culture, News, and Freakonomincs. Also freelancing for Black Enterprise, BronxNet Television,Bedsider, and The Museum for African Art. Her independent work is featured on her website VeralynMedia.com. Through all of her endeavors she aims to give a voice to perspectives that are often forgotten in the media.
5 Reasons to Bat for #teamsingle This Valentine's Day
Hey, you. Toss the Whitman's Sampler aside and close that old Facebook album of you and your ex. Ignore the naysayers—batting for #teamsingle isn't all that bad. One day out of the entire year heightens our awareness, but actually we're #winning for the remaining 364. Behold, my top 5 reasons why.
1. Love Don't Cost a Thing
Remember the days when construction paper heart cutouts and a splash of glitter did the V-Day trick? That was in kindergarten. Today, most folks are blinded by bling. The candy, flowers, lavish dinners and other presents adds up quickly. #Teamsingle is lucky—we can pocket that cash and put it to good use! Now excuse me while I log on to Bloomingdale's website…
2. Sweatpants, Hair Tied, Chillin' with no Makeup On
I hate to rain on your parade…jk, I love it. According to the Weather Channel, Valentine's Day will be cold, rainy and snowy for many cities this year. While the taken will be hopping over puddles in their Jeffrey Campbells and Ferragamos, #teamsingle will be at home in slippers and Snuggies. Win.
3. Go to Sleep in Paris, Wake Up In Tokyo
When you don't have a S.O., there's the beautiful option of making time in your busy schedule for y-o-u. Use it to your advantage! See a movie you want to see; visit places you want to go. There's no need to compromise or flip a coin when you're in a party of one.
4. Thank You for Being a Friend
We all have that one friend who can't detach themselves from their phone. At group outings, they're too busy cooing sweet nothings and giggling at cutesy text messages to have a good time. So. Annoying. Being single allows you to be a better listener and pay attention to your pals—your head isn't filled with thoughts of your S.O. and you're not doodling your hyphenated name on the margins of the dinner menu.
5. Come Here, Rude Boy
It's okay to have a roving eye when you're single, of course. Use your status to your advantage! Have lunch with the quiet cutie in your English class, talk to complete (but safe) strangers on the Metro, and flirt until your eyelashes fall off from batting. Who knows? You may be on the other team next year…if that's what you're into.
"Heart in heart" image by tanakawho.
*****
Khalea Underwood is an intern for the digital media team of The National Campaign to Prevent Teen and Unplanned Pregnancy. When she's not writing, shopping, or listening to music, the Howard University print journalism student moonlights as an older sister, a contributor for MTVIggy.com, and a copy editor for The Hilltop newspaper.