Create the life you want. You don't have to do anything except the stuff that pays the rent and makes you happy. If you want to have a kid, there are ways to do that. (Until then, there's birth control.) If you want to be a homeowner, work towards it. And if you want to shack up without the formality of a marriage certificate, go for it. Just don't ever feel bad about your choice if you choose not to marry.
Whatever your relationship status, here's to a very happy Frisky Friday!
Red Alert: 5 Ways Your Dating Life May Be Driving Your Friends Crazy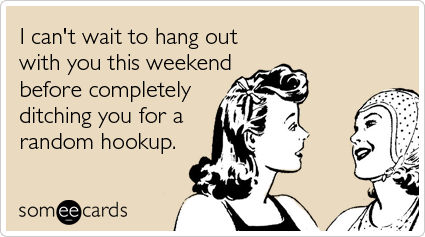 Originally published on SexReally.com on June 6, 2011.
Friends are forever, but we often put more attention toward romantic relationships. Maybe you found the perfect guy—handsome, smart, funny, and everything you hoped he would be. Or, maybe you haven't found a partner yet, but you are having a fabulous time flitting from date to date, then dishing to your gal pals about every glorious moment. Maybe you are starting to notice that your girls are acting a bit odd every time you start chatting about romance. What's going on? Why are they tuning you out? Isn't the point of having a group of girlfriends that they listen to every story about your dating life? You may be committing one (or more!) of the 5 rookie mistakes of the romance-friendship balance. Read on and, if you realize you're doing any of this, get back on track before it's too late!
1. You drop your friends.
You are in love, with a capital "L", and want to spend every waking moment with your significant other. You are so smitten that your calendar soon fills up with movie nights, reality-TV evenings, and romantic day trips. Your friends don't even have a chance to respond to your dating life anymore because you aren't around to tell them about it.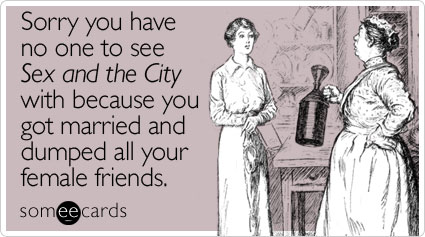 If this is you: The e-card above was popular when the first Sex and the City movie came out. I got such a chuckle out of it because it exactly described what I observed happening to some of the women in my life. The ones who had completely abandoned their friends didn't have anyone to see the movie with when their husbands/boyfriends/fiancés wouldn't go.
It's hard not to get sucked into the Love Bubble*, especially if you are experiencing your first taste of a real relationship. But always, always remember your roots. It's important to keep up with the people you had in your life BPC (before Prince Charming). For one thing, if your relationship blows up, you will need those people. Otherwise you will be without your guy and without your old group of friends because they moved on when you weren't paying attention.
Even if the relationship is The One and you will be with this person Forever and Ever, it's still incredibly important to have a variety of people in your life. Friends enrich your life, bring you fresh perspective, and keep you true to who you are.
*Love Bubble [luhv buhb-uh l] noun, Invisible force field around two people who are in love that keeps them focused only on each other. Signs include spending countless days/nights together, googly eyes, pet nicknames, and inside jokes.
How to get things back on track: Your friends are your friends for a reason. Chances are they are wonderful, kind people who will forgive and forget, especially if you acknowledge your mistakes. Depending on how much time has been spent away, it may take some effort to rebuild bridges, but get started right away. Invite one of them out for coffee. Spend an evening just chatting. And shut up about Prince Charming—ask your friend how she is doing.
Also, in the future, make time for your friendships even if you are in the best relationship of your life. You had people you cared about before your significant other came along and a couple hours apart are not going to kill either one of you. It actually might help your relationship!
2. You are always scouting.
You are out with your wonderful gal pals having a night on the town. Or, maybe you are doing something tame, like having brunch on the weekend. No matter the location, you are always looking around for people you're attracted to. Now, there's nothing wrong with checking out a little eye candy. If you are out and the group goal is to meet as many attractive people as possible, that's one thing. But using your friends as a means to continually scout potential partners is not only rude, it can be extremely frustrating to the people you are out with.
If this is you: This was the case with a friend of mine. Every time we went out together, while she pretended to listen she was actually looking around for her next boyfriend. It went a little further than that—she would pick tables, events, and places to stand and talk based on the proximity of an available man. I didn't pick up on it at first, but it became more and more obvious based on how she was dressed. When we were out she was all dolled up. On the trip back she would put her hair in a ponytail, put on her glasses, and actually make conversation with me. It's as if she switched on and off her persona. It's okay if you want to get all divalicious, then relax when the night comes to a close. But if you are becoming two separate people within the course of one evening, something is wrong.
How to get things back on track: If you are going out with your friends, go out with your friends. It's okay to run into someone new along the way or start a conversation with an attractive person, but don't use your friends as a means to meet other people because you are insecure. Go out, have a great time, listen to your friends, and become engaged with their lives. Confidence and actually having a life will always be sexy.
3. You talk non-stop about your significant other.
Your significant other is amazing. He does 100 cute things a day, and you want to list them one by one to anyone who will listen. Here's the big news flash: no one really cares. Okay, that sounds harsh, and it isn't 100% true. Your friends do care about your relationships and they do want to know what's going on in your life. But they don't want to know Every. Single. Detail. The only person who has that minutia level of interest in your daily relationship life is you. That doesn't mean you have to keep mum all the time. It just means keep things in check.
If this is you: If you are happy, chances are your friends are happy for you. Every now and then it's okay to gush about the latest romantic thing your partner did, or a funny story about his work. Remember, though, that the world doesn't revolve around your relationship. Your friends have stories they want to tell, too.
How to get things back on track: Ask your friends questions. It's as simple as that. Every now and then the topic of conversation will be all about you, but make sure there's a balance. It's wonderful that you are happy! Don't feel the need to hide that feeling, but take an active interest in other people. And don't just wait for a pause in the conversation to make it all about you once more.
4. When you talk about your relationship, you only talk about the bad stuff.
No matter how much we love our partners, chances are one day they are going to do or say something really stupid. Or, the two of you are going to get in a fight…or fight about the same thing for the 300th time. When those things happen, you are going to want to talk about it. But if all you are doing is telling friends awful things about your significant other, guess what? They aren't going to like him.
If this is you: Again, wanting to vent about your guy is natural and it happens to everyone. Check yourself, though. Are you only telling your girls the bad things? Your friends love you and want you to be safe and happy, so if the only thing you are telling them is that he's the scum of the earth, they are going to believe (surprise!) he is the scum of the earth.
How to get things back on track: You have three choices. You can a) admit that even though your guy might drive you crazy sometimes, really the good things outweigh the bad. Tell your friends about the good stuff, too. Or, you can b) realize that you spend a lot of time complaining, regardless of subject, and make an effort to start watching what you say about other people in general. Or, c) if your stories are really bad, it might be because you are in a bad relationship. If so, get out. Life is too short and there are too many wonderful people out there to be miserable all the time.
5. You make stupid decisions without thinking about how they affect the people around you.
You had unprotected sex. Or are in a relationship with someone who is married. Or are dating someone who is actually dangerous. It is your life and you can make any decision you want, but remember your actions affect those around you.
If this is you: Everyone makes stupid decisions every now and then. Part of growing up is learning how to take responsibility for those actions. Your body is your body, and you really can do anything you want. But, people are invested in you and your life, so if you put yourself in a dangerous or difficult situation, it can influence their lives as well.
How to get things back on track: If you have had unprotected sex , get tested for STIs and pregnancy (and if it's been less than 5 days, use emergency contraception). Then learn about your contraceptive options and invest in some condoms for STI prevention. If you are in a relationship with someone who is married , get out as soon as possible. If you are dating someone who is threatening you physically and/or emotionally, get help and get out. Basically, love yourself as much as your friends love you. You don't always have to agree them, but if they are worried about you, listen to what they are saying. They may have a point.
*****
Life is all about balance, and balancing work, love, and friendship will always be a bit tricky. But it is possible to have a solid relationship while cultivating your friendships at the same time. What are some of your strategies for balancing relationships and friendships? Have you ever had a friend do one of the above things to you? How did you deal with it?
*****
Kaarin Moore is the owner of Closet Caucus, a fashion consulting company located in Washington, DC. Her goal is to help clients express who they are through the medium of clothing. You can reach her at www.closetcaucus.com or on twitter (@closetcaucus).
Think it'll end happily ever after? Over 75% of those who marry the person they had an affair with eventually divorce.
Who says married life has to be boring?
According to yesterday's birth control reminder, marriage may not be as hard on your sex life as some might think.
We're not saying the promise of more oral sex should be a motive for getting married, but it's nice to know tying the knot could have an unexpected perk or two…
Last week we sent out a Frisky Friday to kick off wedding season in style: "Save the date: How to be a badass bridesmaid." Just one of the many excellent suggestions you'll find there:
Don't hold back on the dance floor. Ring bearers, grandpas, and colleagues who don't really know anyone at the reception will adore you for dancing with them.
Sounds like a recipe for adorable good times to us. Check out the rest of the list and tell us your favorite tricks for making the bridesmaid experience awesome.
Birth control and the economy (they get along famously)
Wow. We probably don't need to tell you that birth control has been in the news a lot lately. And though unfortunately we can't say the attention has been all positive, we've actually seen a whole lot of good publicity coming out of the discussion overall. The latest theme we've noticed is media attention to birth control and the economy—and let's just say birth control comes out looking pretty fantastic (no make-up required). A few favorite points in birth control's favor:
Women benefit. The New York Times published a piece yesterday (which The Washington Post riffed off of) on how the pill has affected women's ability to contribute to the economy. A teaser:
A study by Martha J. Bailey, Brad Hershbein and Amalia R. Miller helps assign a dollar value to those tectonic shifts. For instance, they show that young women who won access to the pill in the 1960s ended up earning an 8 percent premium on their hourly wages by age 50.

Such trends have helped narrow the earnings gap between men and women. Indeed, the paper suggests that the pill accounted for 30 percent – 30 percent! – of the convergence of men's and women's earnings from 1990 to 2000.
Taxpayers benefit.On Sunday, The Times published a piece on "Pregnancy Prevention and the Taxpayer." The article highlighted a recent study that found that there are a few things the government can pay for that will save taxpayers many, many dollars over the long haul. According to the study, "[t]he biggest savings would come from increasing the amount of subsidized birth control available to poor women. At a cost of $235 million a year, such programs could save $1.32 billion annually." Sounds like a good deal to us…
Consumers benefit (from more information about their birth control options). Okay, maybe that heading's a stretch, but we wanted to include an article from U.S. News Money on "The Real Cost of Birth Control," which sought to be "a guide for people who want to consider the health of their bank account when making their birth control decision." We love that they wanted to make the cost of different methods easier to understand, though it doesn't look like they fully accounted for health insurance coverage (or health reform, which will eliminate co-pays on birth control, or other programs to make birth control cheaper or even free…) They also seem to have used slightly outdated effectiveness numbers for the different methods.
Must also note that their conclusion that the diaphragm is the most cost-effective method rings a bit hollow considering that with normal use of it, 12 in 100 women will get pregnant within a year of relying on it—U.S. News quotes that proportion as 15 in 100, which would be even more of a reason not to recommend it for folks who are watching their finances. As the article itself notes, an accidental pregnancy can be harder on a bank account than any method on the market. No offense to the diaphragm intended, but considering that the IUD, for example, is often quite affordable with insurance and also incredibly effective (same story for the implant, which didn't even get a mention, as well as sterilization), we definitely would've picked a different winner.
Insurance providers and their customers benefit. And last but not least, way back in February, TIME published an excellent explanation of "Why Free Birth Control Will Not Hike the Cost of Your Insurance," complete with illustrative anecdotes:
Think of it this way: If my married daughter lays out a $15 co-pay for birth control pills, she doesn't save a dime. True, she protects herself against the emotional cost of an unwanted pregnancy, along with the hefty costs of raising a child. But in terms of the costs to give birth to the child, she is not much better off, because if she does become pregnant, her insurer, like many, would pay the bills above and beyond the co-pay.

By contrast, if an insurer makes birth control totally free for all of its customers, it avoids having to reimburse them for countless unplanned pregnancies and births. Overall, then, it's cheaper for the insurer to pay a little upfront to save a ton down the line.
Sex on TV: Premature Engagement
A note from Lauren: Please excuse my absence this week, but trust in the fact that I've left the "Sex on TV" duties to a guest blogger who will not let you down. Plus, like I learned from television, the younger and cuter girl is always more desirable. So I present to you the musings of our intern, Roxanne, who still has the positive and ambitious attitude of a college student. The cynicism will come soon and fast, my dear.
*****
Although I graduated from college this past December, I won't feel like it's official until I walk the stage and receive my "diploma" (we all know they just hand you a blank piece of paper). As graduation day approaches, I notice myself getting anxious about my future and I think rightfully so. I have absolutely no idea where I am going to be or what I will be doing in June. Every time I think about my future I feel my stomach churning.
Recently during an episode of Glee, Finn struggled with decisions about his future. He is lost, just as most high school seniors are, but the difference between him and most other students is that he decides love is his number one priority. So he proposes to his girlfriend, Rachel. And for Rachel, growing increasingly nervous about her own future as she watches her friends get accepted to college and make plans while she's still in limbo, she decides to accept Finn's proposal. Is this really the way to get control over your life?
It seems like we've moved away from the cliché "after prom sex episode" (since now most programs are showing characters having sex throughout high school, not waiting for prom night) and instead towards the life-changing marriage proposal. My first memory of this prolific moment comes from Boy Meets World. Does anyone else remember watching Topanga propose to Corey while the rest of their classmates throw their caps in the air to celebrate their high school graduation? We all know how it ends… they decide not to get married right away and end up getting married during college (I know… so much more realistic).
We then move onto one of my favorite shows, Gilmore Girls. As Rory is about to graduate from Yale, Logan (her boyfriend of a couple of years) decides to pop the question. After some deliberation, Rory says no to Logan because, let's be honest, there is a lot she wants to do before tying the knot. And really, who can blame her?
Even in comedies like That '70s Show, the teenagers turn to proposals. When Eric is worried about his future with Donna at the end of high school he jumps to proposing. Even though his friends tell him it's a bad idea, he does it anyway. And guess what… the wedding doesn't happen.  Obviously TV has to make things over the top and dramatic, but does it always have to be this all or nothing nonsense?
Now, before you say I don't know what I am talking about because I have never been in a serious relationship and when you are in love age doesn't make a difference, you should all know I have been with same person for almost 5 years. I can also tell you that as I try to figure out my life after graduation, I am not considering marriage. I am 22-years-old and not ready to get married, but that doesn't mean I want to break-up with my boyfriend or that he isn't a factor in my decisions. Obviously I can't speak for him entirely (hope things don't get awkward when he reads this), but I'm pretty sure we are on the same page.
So what's wrong with me? According to TV, I should be picking out china patterns and planning my first kid by now. Apparently once a couple has had sex, the next step is marriage. Look at Finn and Rachel—they had sex earlier this season and now we have a proposal. But before they walk down the aisle, they should probably keep in mind that teen marriages are twice as likely to fail as marriages in which the woman is at least 25-years-old.
I'm not saying that teenagers and young adults should give up on love, but it's important to remember that a relationship, or sex for that matter, doesn't define you. Who knows if the Finn/Rachel wedding will actually happen, but it's wrong that just because the two feel lost they made such a drastic decision. An engagement at 18 doesn't make life less scary or complicated. You need to know who you are before making that type of commitment.
"Engagement ring" image by Tela Chhe.
*****
Lauren Mann works in The National Campaign to Prevent Teen and Unplanned Pregnancy's Entertainment Media department. She's been blogging about sex, love and relationships among twenty-somethings since she first joined the Campaign as an intern in 2009. Check out her personal blog at whatjewtalkingbout.tumblr.com.
Closing Off to Opening Up: One Girl's Journey
Originally published on SexReally.com on June 16, 2010.
Everybody's sick for something that they can find fascinating—everyone but you and even you aren't feeling well.
This lyric, penned by one of my greatest musical inspirations, hits the nail on the head in terms of my own experiences and the observed experiences of my friends in all range of confounding, agonizing relational duress. There are some that argue that in this day and age, in which many of us live much longer than past generations and have many more geographical, professional, and emotional transitions, monogamy is unnatural and will inevitably lead us to frustration and a lack of fulfillment. I cite this particular Amanda Palmer line because I think it speaks to this lack, the frustration, the scurried looks around for the next big or better thing—including partners. I've thought a lot about the challenges inherent in all variety of relationship styles—long-distance, short-distance, queer, straight, monogamous, nonmonogamous, coupledom, singledom, marriage, domestic partnership, you name it. There was a point at which polyamory, at least conceptually, did give me pause, for several reasons: 1. I was brought up to question everything (even monogamy!); 2. As a result, polyamory struck me as worthy of exploration and thought; 3. Many practical factors, having nothing to do with ideology, affect relationships and should be taken into consideration; 4. Simply put, hearts are complicated. Especially hearts I've loved.
In theory, I can get behind polyamory—the practice of concurrent plural romantic and sexual relationships—even though my gut, primal instinct is towards monogamy. Like many of my friends, I read The Ethical Slut and a host of other critical (and not so critical) dialogues around nonmonogamy. It makes sense that people (yes, men, women, and those who ascribe to neither label) crave sexual, emotional, or intellectual variety in partners. Let's face it—attraction is complex, confusing stuff. Often the people we want to sleep with are not the people we want to depend on. Often someone we are really attracted to is not someone with whom we could imagine spending any prolonged period of time, let alone sharing domestic or psychic space. All of this is hard to sort out.
Polyamory in practice, though, is a different story. Any good relationship, including a monogamous one, is going to have its share of challenges, but there are a certain interesting stressors brought about by different relationship structures such as marriage, living together, dating and living apart, or being single but sexual, to name a few.
The structure of a nonmonogamous committed relationship is, for many, the terrain of unknown variables. It can bring out the best and the worst in people. Pressures from society to couple monogamously, marry, and reproduce combined with a lack of societal, communal support to temper isolation can make it to difficult to navigate both monogamy and polyamory. There are a range of mitigating factors to be sorted out when you add extra people into an equation, and even those who think they can handle it all and are prepared for accompanying emotions may experience feelings and sideswiping they never knew they would. The truth is that one partner in an open relationship may have an easier time finding other partners due to charm, attractiveness, circumstance, or geography. Additionally, finding a partner does not mean that the physical or emotional experience of the new person will necessarily be what you had in mind. If you choose to introduce multiple partners, there is no way to control how one relational dynamic will affect the dynamics of your other relationship(s).
Some of these various issues come out in the book Kink, by Kathe Koja, which tells the stories of two partners who are each having an affair behind the other's back—with the same woman. Of course this scenario is not the same as honest, forthright nonmonogamy, but it does engender contemplation of themes of fidelity, attraction, and orientation—as well as who has power, security, or an accurate view of their own relationship. It also drives home the reality that whether monogamous or polyamorous, two people can have wholly different perspectives of relationships and events—even those they experience together.
I am lucky to have some really inspiring polyamorous friends who are thoughtful, critical, engaged, challenging people—and they do have their struggles in relationships, but they try to deal with them creatively and compassionately. This includes honoring "secondary" partners' lives and realities as much as those of their "primary" (I use the terms primary and secondary loosely because I consider them inherently problematic—they afford one partner a space of greater urgency, validity, and security, and to my way of thinking that cannot be a comfortable place for a secondary to be. Furthermore it seems hierarchy-driven, and hierarchy doesn't strike me as a useful way to approach love), not dating another person who makes their primary partner uncomfortable, and thinking about how to allocate time and effort to value and respect all the people they are involved with. Unfortunately I have also experienced polyamorous people who have poor communication skills, who choose to triangulate and breed competition and misunderstanding between partners, make unethical sexual decisions (as many "monogamous" people do), and centralize themselves as the most important narrators in the drama of life, with others merely serving as peripheral players. In a word, snore.
This isn't to say that monogamous relationships don't have their fair share of communication issues, emotional laziness, lack of passion, solipsism, and selfishness. But different relationship structures require different strategies to deal with problems. And a different lens for analysis.
Adding other ingredients into a soup gone wrong doesn't fix the soup—it just makes it a crazy soup with more ingredients. If you are struggling in your relationship, new partners may serve as a temporary distraction or relief, but won't fix your problems long-term. Then again, there are all kinds of soups and ways to enjoy them—and we as a culture could stand to think about and embrace that a little more.
Relationships—sexual or not, monogamous or not—require engagement, contemplation, selfishness as well as selflessness, nurturance, and challenge. While monogamy is what makes me feel happiest and healthiest with the right person (someone who feels that the same way and not as if it has been foisted upon them), I will also fight for a world that allows freedom to consider all options and choose mindfully what best fits each of us individually. I like coming to my monogamy as an elected, thought out, feeling-and-thinking-based process rather than a paradigm default. I want a world in which people are respected regardless of gender, age, relationship structure, or orientation—and are empowered to make decisions that are best for them without fear of castigation or reproach.
And a world with its own fair and healthy share of ongoing critique, natch.
*****
Katy Otto is a social justice activist, writer and musician who grew up in the DC area. She works in nonprofit management and development.
The Single Girl's Guide to Surviving the Holidays
Originally published on SexReally.com on December 22, 2010.
Ahh…the joys of the holidays. While visions of sugarplums dance in your head and Jack Frost nips at your nose, you may have a few other things on your mind. Like being single during the Most Wonderful Time of the Year. Which can include a variety of scenarios such as: big family dinners while you're still carrying tissues around after a recent breakup, questions at the holiday party about that nice guy you brought last time, or pointed statements regarding your need to settle down in the near future.
Of course plenty of people are single by choice and perfectly happy. And then there are some who are quite brokenhearted about entering into the New Year without partner or prospect. No matter where you fall on the spectrum, seasonal gatherings can feel like a very uncomfortable game of Twenty Questions about your love life.
Has this situation ever happened to you? You attend some type of family function, everyone is sitting down for a lovely dinner, and your Aunt starts asking questions about your "prospects." Or, your mother tells you that you aren't getting any younger. Or, a cousin who has brought along her significant other asks if you have had any dates followed by the, "I'm so sorry" pity face when the answer is "no". A friend once told me that at a holiday function with family, her 4-year-old niece came up to her and said, "Mommy and Daddy are praying for you because you don't have a boyfriend."
The horror!
There are a number of reasons why our families are so darn curious about our relationship status, and why they make it fodder for conversation at seasonal gatherings. Understanding the reasons behind the questioning and having a plan of action for how to respond can make the holiday less stressful and more fun for you and your loved ones.
1. Your family still sees you as a child.
To some family members you will always be the 7-year-old angel running around the backyard wearing a tiara. It's not based in malice or a desire to patronize you. Remembering those times may bring the people who have known you since birth immense joy. But if they still view you as a kid, it can be hard to enforce boundaries regarding your private life.
My friend Janine had this idea highlighted when her niece came up and said, "Aunt Janine, sometimes I think you're not a grown up because you're not married." Even though it was a little one who voiced the opinion, there may be similar feelings involved in larger family dynamics.
If it happens to you:
You are an adult. You have the right to a private life and can decide whether or not to share information regarding your relationships or anything else. It doesn't have to mean that you want to shut your family out of your life. A simple, "Thanks for asking, but I don't feel like talking about it," said without attitude and followed by a change of subject might be enough to shut them up. Be prepared, though, to try this tactic more than once if they aren't ready to listen.
2. Talking about your relationship status may be the only entry point into your life that your family can come up with.
Just because your relatives are connected to you doesn't mean that they truly know who you are. Thus, asking about your love life may serve as a conversation starter and a way to show they are interested in you. Even though you have lots of opinions and interests, it may not occur to Auntie to ask, "What do you think of Obama's healthcare reform plan?" (Or maybe she thinks politics is a riskier subject!)
If it happens to you:
Families can be complex, and the inner workings of how different members communicate can be tricky to navigate. Just because they don't know the grown-up version of who you are doesn't mean they are opposed to learning. They may not know where to start asking questions. Also, they may be sincerely lost when it comes to, "what young people are doing these days."
Give your Auntie the benefit of the doubt and see if you can start a conversation you're comfortable with. If she asks about dates, you can respond, "You know, I haven't been on a formal date in awhile, but I did take myself out to see Black Swan last week. Have you seen it? Do you like the ballet?" Talking to your Auntie about something you are interested in gives her a starting point and a clue to your inner life. and could lead to a deeper conversation.
3. Family members use your single status as a way to make you feel inadequate.
It blows my mind when people put others down because they are single. Being single can mean freedom, time for things that you want to do, and not having to answer to anyone. Singleness is an adventure.
So why are there always those annoying people who will nag you because you aren't part of a couple? It is especially confounding when those lobbing hateful comments are family members. This happened to a friend who was point-blank asked by his cousin, "What's wrong with you? You are the last one who isn't married in the family." He got a chuckle out of it and decided not to fire back a snotty comment about the cousin's latest round of drama with her ex-husband.
If it happens to you:
Remember that being in a relationship doesn't automatically mean life is rosy. When half of all marriages in the United States end in divorce, coupledom is obviously a difficult road.
If a family member tosses out a comment about you being single yet again you can respond, "Well, are you happy?" It's a cheeky comeback, and it puts the other person on the spot. But, you were put on the spot. The turning-of-the-tables may be enough to end the conversation.
If the offending party comes back with a quick, "Yes, of course!" you can always say, "Well, maybe yours will be among the 50% of marriages that make it!" Again, it's a mischievous retort, but you have the option of being a bit sassy to that relative who just will not let it go.
4. Your family is sincerely interested in your love life because they think it equates to happiness. And they really want you to be happy.
This situation is tricky, because in this scenario your family is truly coming from a place of love. It also may touch a raw nerve if you genuinely want to be in a relationship but things aren't happening on that front right now.
The thing to remind your family—and yourself—of is that a relationship does not necessarily mean total life happiness. A joyful life is much more multifaceted and intricate than purely your relationship status.
If it happens to you:
Take some time to think about happiness in a holistic way. What happened in 2010 that brought you joy? What went on with your friends, job, spiritual life, and creative endeavors? If you traveled this past year, take out pictures from your journey to recall everything you learned about yourself and others through that excursion. Think of your victories—those moments that made you feel proud and full of bliss.
Then, write all of those things down and put the piece of paper/collage in a place that is accessible. Better yet, bring it to your family dinner to share, or to leave in your back pocket as a reminder. That way if anyone starts down the, "Why aren't you in a relationship?" road you can confidently state, "I'm not in a relationship right now, but I've had such a full year!" It's a gentle reminder to your family that deep joy comes from a variety of life experiences.
All in all, remember your family is your family. You can't get rid of them; they are yours forever. So this holiday season keep your sense of humor, give people the benefit of the doubt, and breathe deeply. Love, relationships, and sex are all normal parts of life that can be magnificent, but they are also matters that everyone struggles with (including married couples!). As 2010 turns into 2011, remember that the relationship that matters most is the one that you have with yourself.
*****
Kaarin Moore is the owner of Closet Caucus, a fashion consulting company located in Washington, DC. Her goal is to help clients express who they are through the medium of clothing. You can reach her at www.closetcaucus.com or on twitter (@closetcaucus).