After years of legal back and forth, it looks like Plan B One-Step—and possibly generic versions of it as well—will finally be available over the counter to all. Happy Friday indeed!
I'm okay if we disagree on political positions as long as we agree on sexual positions.

Via someecards
We've learned recently, thanks to vlogger Veralyn Williams and some of our Facebook friends, that political differences are a bigger deal to some folks than others. But whether you see clashing political views as a deal breaker or a turn-on, we hope everyone can agree that exercising your right to vote is a very big deal.
If you need even more Someecards-style voting motivation, we've got you covered: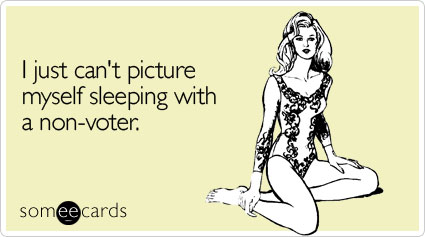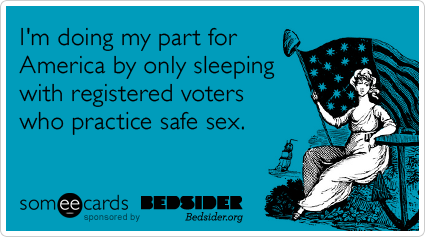 See you at the polls, hot stuff.
3 Ways to Deal With Political Differences in a Relationship
With Election Day just around the corner, I've noticed a lot of my Facebook friends being way less tolerant about political views that differ from theirs. I've witnessed "un-friending" announcements and call-outs in the comments of politics-related status updates. With dating and relationships on the brain (as always), of course I found myself wondering how this political climate is affecting our love lives.
Through the interview process for my latest vlog, Is Politics a Dating Deal Breaker?, I learned that political differences can cause conflict in a relationship, but that they don't necessarily have to be a deal breaker. Here are 3 political problems I heard about, and solutions to get past each.
Problem #1: My partner sees EVERYTHING as political—and I don't.
You know those people who make everything into a conspiracy by the government, or who can't get through dinner without pointing out all the ways the restaurant is not "green"? If you're not as passionate about the same issue, this might get old really fast.
Solution: Remind your sweetie that being present and in the moment (with you!) is just as important. Interviewee K-Swift has to be reminded of this sometimes:
Problem #2: The views of our families conflict.
You can choose your mate, but you can't choose their family—or yours, for that matter. So what do you do when grandma makes a racially insensitive statement at Thanksgiving dinner?
Solution: Pick your battles and remember there is a time and place for everything. Natasha's take:
Problem #3: We just don't see things the same way.
Probably the most common conflict of all: You think you've found the one, but every time you talk about your political beliefs, the "love" seemingly goes out the window. Sounds like an impossible situation, but does it have to be?
Solution: Decide it's okay to agree to disagree. Or, in the words of Obama, disagree without being disagreeable. Henry, tells us how he (a conservative) and his wife (a liberal) make their relationship work:
How does politics affect your relationships (romantic or otherwise)? Could you see yourself in a "bipartisan" relationship?
*****
Veralyn Williams is a Multimedia Freelance Journalist currently working in New York City. She has spent 4 years at WNYC Radio working with various departments including: Radio Rookies, Culture, News, and Freakonomincs. Also freelancing for Black Enterprise, BronxNet Television,Bedsider, and The Museum for African Art. Her independent work is featured on her website VeralynMedia.com. Through all of her endeavors she aims to give a voice to perspectives that are often forgotten in the media.
Can't we all just get along? Depends who you ask…
Elizabeth Banks: I Thank Birth Control Pills for My Son

Just over a year ago, my son Felix was born via gestational surrogacy. He came out of me nine months early and because of my broken belly, his babycake was baked in a wonderful angel's oven and now — I can't believe it — he's a year old and walking. He has expanded my capacity for joy a thousand-fold.

His life would have been much harder to come by if not for the birth control pill. How's that, you ask? Well, it's a simple fact: The pill is used for many situations that have nothing to do with the prevention of pregnancy. The pill was prescribed to me when hormonally induced migraines kept me locked up in dark rooms for days at a time. It was prescribed to me to regulate insanely painful cramps every month — cramps so painful that I often vomited.

And here's a little secret I am happy to blow the lid off of: The pill is often prescribed during the IVF (in vitro fertilization) process to help MAKE BABIES! That's right, women dealing with infertility are often put on the pill to help regulate a cycle so that they might have a more successful IVF. The pill is used to manage ovarian cysts, endometriosis and other conditions too. Not to mention, it helps couples plan for wanted children.

Obviously, I'm not a doctor. I'm just a woman grateful for my necessary and very helpful medication. And I'm sure glad I don't have to discuss any of these conditions, including infertility, with my employer.

A girlfriend and I recently wondered what would be more mortifying: having to tell her male employer she needed birth control to mitigate a heavy flow or just bleeding all over herself in the office?

So with that image in mind, I encourage all women — and the men in their lives — to protect access to birth control, and encourage our politicians to take women's health issues out of the political process.

For more information, please visit the most comprehensive and willing advocates for women's health in America: www.plannedparenthood.org.
Awesomeness.
(via myheartlikewoah)
From the better-late-than-never files: A great piece from earlier in the month showcasing the comments of feministing.com readers RE birth control (organized into 4 handy themes!).
What do you have to say about birth control?
As a response to a Congressional hearing on whether health insurance plans should be required to cover birth control—a hearing which is now infamous for opening with the testimonies of five men and zero women—the Coalition to Protect Women's Health Care (CPWH) started the "I Have a Say" campaign to bring women's voices into the discussion. Today Sarah Brown, CEO of The National Campaign to Prevent Teen and Unplanned Pregnancy, added her own voice to the campaign.
And the great thing about it is that you don't have to have 45 years of experience in the area of birth control and pregnancy planning to have a say. CPWH is asking all women to share their experiences and perspectives on why access to contraception is important.
Check out a few more examples below or go to the CPWH playlist to see more "I Have a Say" videos. Then make your own and share it with CPWH. You can also join the conversation on Twitter with the hashtag #ihaveasay. (And if you're moved to give us a heads up when you've had your say, we're making a playlist too and would love for you to be a part of it!) 
Dianna in Alaska:
Megan, a nurse from Tacoma, WA:
Birth control and the economy (they get along famously)
Wow. We probably don't need to tell you that birth control has been in the news a lot lately. And though unfortunately we can't say the attention has been all positive, we've actually seen a whole lot of good publicity coming out of the discussion overall. The latest theme we've noticed is media attention to birth control and the economy—and let's just say birth control comes out looking pretty fantastic (no make-up required). A few favorite points in birth control's favor:
Women benefit. The New York Times published a piece yesterday (which The Washington Post riffed off of) on how the pill has affected women's ability to contribute to the economy. A teaser:
A study by Martha J. Bailey, Brad Hershbein and Amalia R. Miller helps assign a dollar value to those tectonic shifts. For instance, they show that young women who won access to the pill in the 1960s ended up earning an 8 percent premium on their hourly wages by age 50.

Such trends have helped narrow the earnings gap between men and women. Indeed, the paper suggests that the pill accounted for 30 percent – 30 percent! – of the convergence of men's and women's earnings from 1990 to 2000.
Taxpayers benefit.On Sunday, The Times published a piece on "Pregnancy Prevention and the Taxpayer." The article highlighted a recent study that found that there are a few things the government can pay for that will save taxpayers many, many dollars over the long haul. According to the study, "[t]he biggest savings would come from increasing the amount of subsidized birth control available to poor women. At a cost of $235 million a year, such programs could save $1.32 billion annually." Sounds like a good deal to us…
Consumers benefit (from more information about their birth control options). Okay, maybe that heading's a stretch, but we wanted to include an article from U.S. News Money on "The Real Cost of Birth Control," which sought to be "a guide for people who want to consider the health of their bank account when making their birth control decision." We love that they wanted to make the cost of different methods easier to understand, though it doesn't look like they fully accounted for health insurance coverage (or health reform, which will eliminate co-pays on birth control, or other programs to make birth control cheaper or even free…) They also seem to have used slightly outdated effectiveness numbers for the different methods.
Must also note that their conclusion that the diaphragm is the most cost-effective method rings a bit hollow considering that with normal use of it, 12 in 100 women will get pregnant within a year of relying on it—U.S. News quotes that proportion as 15 in 100, which would be even more of a reason not to recommend it for folks who are watching their finances. As the article itself notes, an accidental pregnancy can be harder on a bank account than any method on the market. No offense to the diaphragm intended, but considering that the IUD, for example, is often quite affordable with insurance and also incredibly effective (same story for the implant, which didn't even get a mention, as well as sterilization), we definitely would've picked a different winner.
Insurance providers and their customers benefit. And last but not least, way back in February, TIME published an excellent explanation of "Why Free Birth Control Will Not Hike the Cost of Your Insurance," complete with illustrative anecdotes:
Think of it this way: If my married daughter lays out a $15 co-pay for birth control pills, she doesn't save a dime. True, she protects herself against the emotional cost of an unwanted pregnancy, along with the hefty costs of raising a child. But in terms of the costs to give birth to the child, she is not much better off, because if she does become pregnant, her insurer, like many, would pay the bills above and beyond the co-pay.

By contrast, if an insurer makes birth control totally free for all of its customers, it avoids having to reimburse them for countless unplanned pregnancies and births. Overall, then, it's cheaper for the insurer to pay a little upfront to save a ton down the line.